Welcome from Denise Cade and Cary Grace
Welcome to our 2020-2021 Year in Review! It has been an enriching year, even in the extraordinary circumstances created by the pandemic. It has been one of learning, growing, and reflecting, as we pivoted effectively to meet our challenges. Throughout it all, our purpose of empowering women to lead was our beacon. We listened and met members where and when they needed us most. Member engagement significantly increased, especially because of virtual programming. This energy and enthusiasm for connecting with and supporting others is reflected in the activities and initiatives captured in this report.

The Chicago Network's voice in the battle for gender equity and inclusion remains essential and relevant now more than ever. Exponentially increasing the number of women in the C-Suite and on corporate boards remains one of our key priorities. We continue to identify and improve areas and opportunities for women to succeed and lift them professionally and personally.

Sincerely,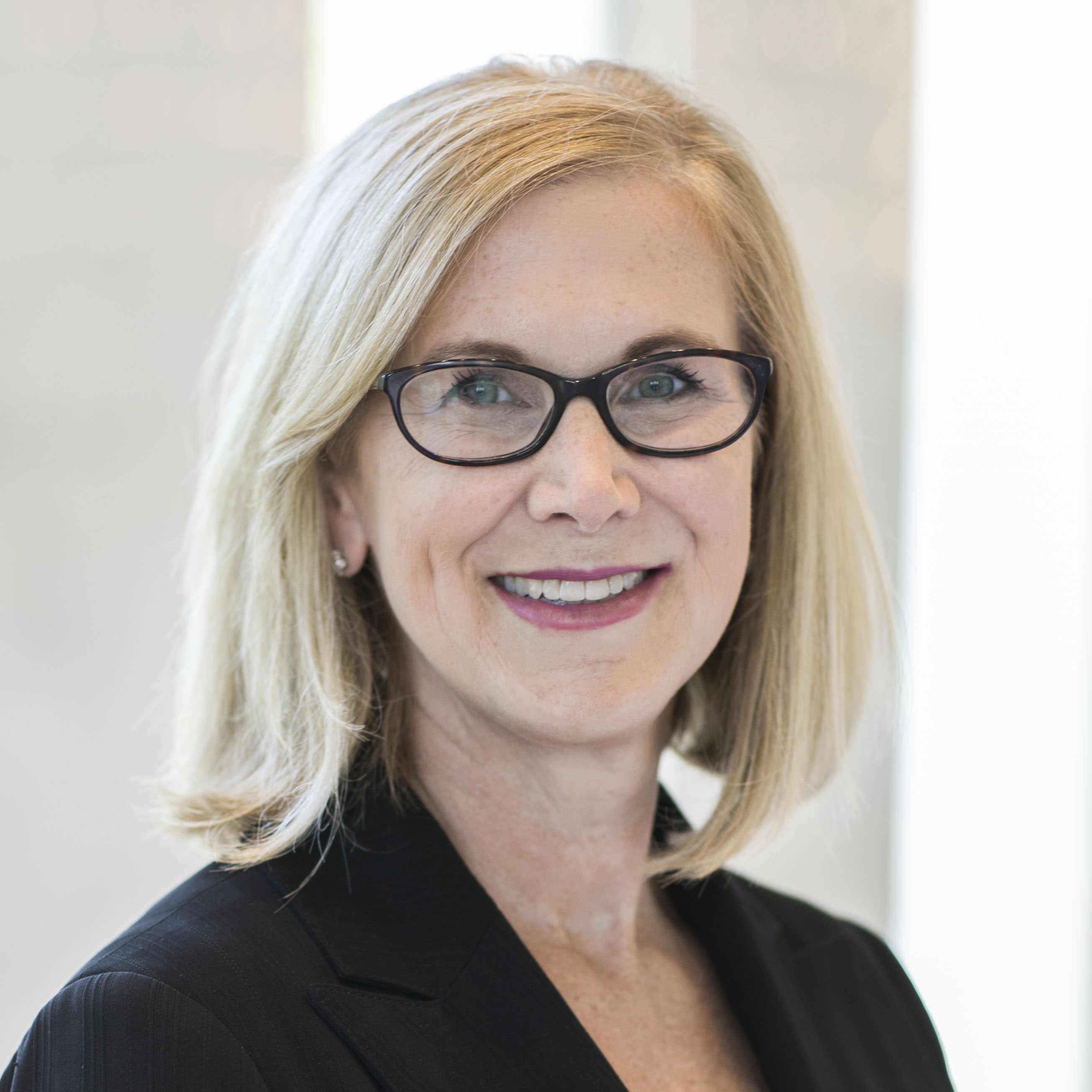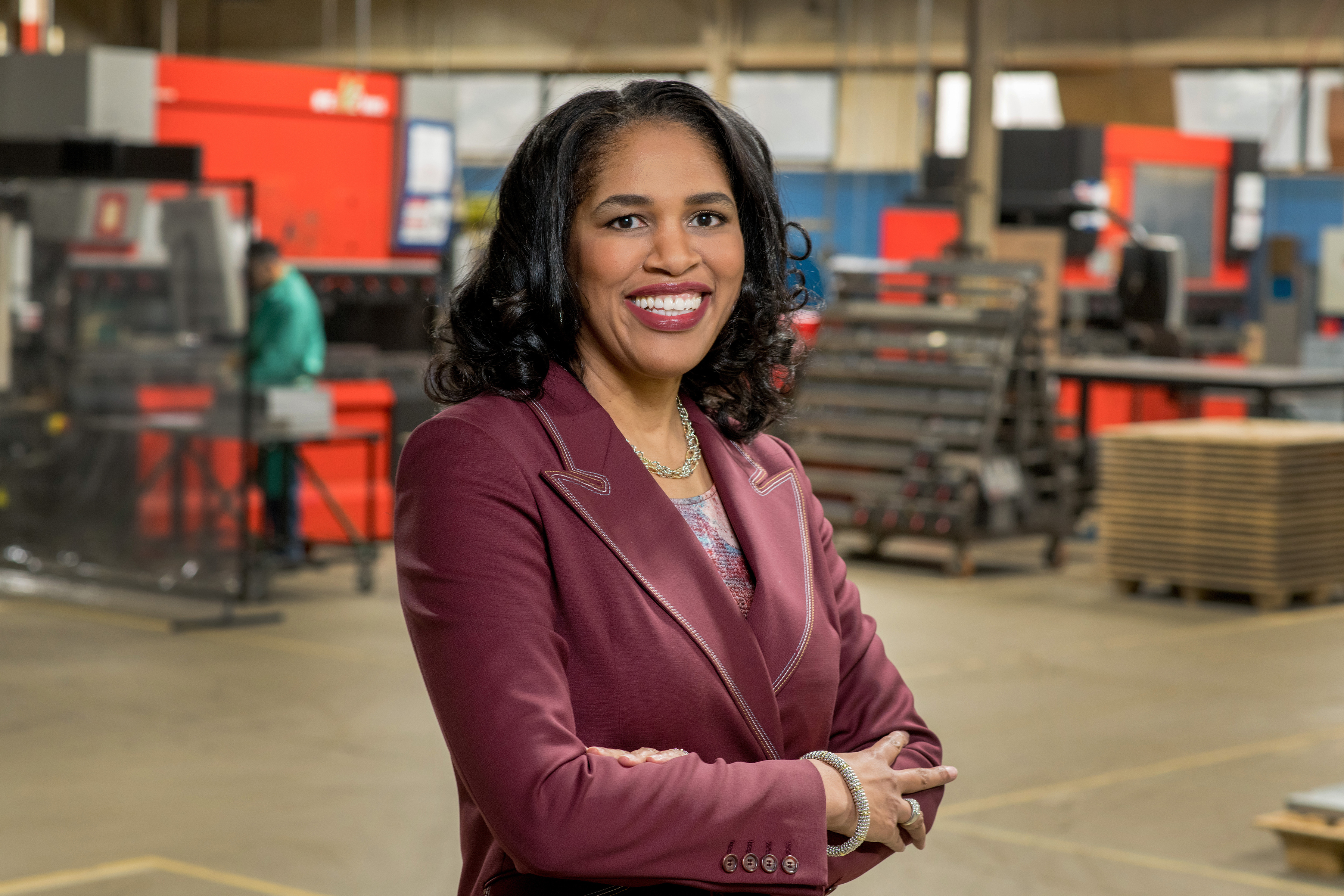 Purpose, Mission, Vision, Values
Purpose:
Why do we exist?

To empower women to lead

Mission:
How will we fulfill the promise?

Connect with each other for personal and professional growth
Advance our civic, business and philanthropic communities
Inspire and support the next generation


Vision:
What is our vision of success?

Gender Equity for Women of All Colors. At All Levels. Everywhere.

Values:
What core values shape our behaviors and actions?

Empathy: We meet women where they are
Generosity: We selflessly pay it forward
Equity: We are relentless in righting the balance
Collectivity: We are stronger together
About Our Members
41
Fortune 500 C-Suite Executives
2.8T
Publically held member companies represent more than 2.8 Trillion in Market Cap
4.7M
Member companies employ more than 4.7 million people
9
Current and Former Fortune 500 CEOs
68%
CRAIN's most Powerful Women in Chicago Business
20%
CRAIN's Power 25 Chicagoans
26
Arts and Culture Trailblazers
56
Corporate C-Suite Executives
54
CEOs and Entrepreneurs of Mid-Size Companies
31
Healthcare Industry Executives
29
Higher Education Institution Leaders
34
Media and Communications Executives
New Members
Patricia Aluisi
MB Real Estate
COO

Tracy Baim
Chicago Reader
President and Co-Publisher

Elizabeth Browne
RedBird Capital Partners
Head of Entrepreneur and Family Office Partnerships

Melissa Conyears-Ervin
City of Chicago
Chicago City Treasurer

Francesca Cornelli
Northwestern University - Kellogg School of Management
Dean

Aarti Dhupelia
National Louis University
Vice President for Undergraduate Education and Dean of the Undergraduate College

Victoria Dudley
TTX Company
CFO and Treasurer

Sherine Gabriel
Rush University and Health System
President and James A Campbell Distinguished Professor and Chief Academic Officer

Natasha Galavotti
Bimbo QSR
Global Vice President - Customers

Jessica Garascia
AAR CORP.
Vice President, General Counsel and Corporate Secretary

Andee Harris
Challenger, Inc.
CEO

Virginia Kendall
United States District Court
United States District Court Judge

Ka Yee C. Lee
The University of Chicago
Provost

Kimberly Lightford
Illinois General Assembly
State Senator 4th District, Senate Majority Leader

Sharon Lindstrom
Protiviti Inc.
Managing Director

Marie Trzupek Lynch
Skills for Chicagoland's Future
CEO


Cindy Moelis
Pritzker Traubert Foundation
President

Michelle Morales
Woods Fund Chicago
President

Margaret Mueller
Executives' Club of Chicago
President and CEO

Kristen Prinz
The Prinz Law Firm, P.C.
Managing Principal

Alyssa Rapp
Healthwell Acquisition Corp. I
CEO

Claire Rice
Executive Director
Arts Alliance Illinois

Aurelie Richard
S&C Electric Company
Chief Human Development and Strategy Officer

Rebecca Rugg
University of Illinois, Chicago
Dean, College of Architecture, Design and the Arts

Leslie Sawyer
Environmental Design International Inc.
President and CEO

Kathy Scherer
Deloitte
Chicago Office Managing Partner and Central Region Marketplace Leader

Catherine Tabaka
Matrix Medical Network
COO

Karen Tamley
Access Living
President and CEO

Edna Uribe
Univision Chicago
Vice President, Director of Sales

Colleen Van Ham
UnitedHealthcare Dental
CEO

Mary Wilson
Dentons US, LLP
Managing Partner

Nykia Wright
Chicago Sun-Times
CEO


Equity Principles: Making an Impact Across Industries
Broader influence and advocacy with Equity Principles
The impact of the pandemic on women in the workplace magnified the importance of our Equity Principles campaign. We must continue to shine a spotlight on gender equity when inclusion and diversity are most at risk. We thank our 100+ Equity Pledge signatories for their commitment to promoting and achieving equity at this crucial time. We need to keep driving on the path towards real change. The Chicago Network has extended its influence and made great strides to strengthen the pipeline of women leaders. Please join us as we use our voices to educate and act on behalf of women, everywhere, of all colors, who do not yet have a seat at the table.
Programming
#WhatItTakes: Empowering Women to Lead
The Chicago Network hosted 66 programs (61 virtual and 5 in-person). We also held in-person virtual and private dinners, our Annual Meeting and Dinner at the Museum of Science and Industry, Launch Pad Women's Leadership Summit, and our signature Women in Forefront Luncheon celebration at Navy Pier. Hosting in-person events at Chicago's iconic cultural institutions were highlights of this year.
Health, Science, and Medicine Sector Meeting
Mid-Size Private Company Sector Meeting
Professional Services Sector Meeting
Non-Profit Sector Meeting
Financial Services Sector Meeting
Government Sector Meeting
Higher Education Sector Meeting
Media and Communications Sector Meeting
Equity Film Discussion with Professor Jacqueline Najuma Stewart
Arts and Culture Sector Meeting
Finding Hope on the Frontlines: A discussion about emergency medicine, epidemics, and societal change with Esther Choo, Cathy Kenworthy, and Megan Ranney
Parents: Virtual Roundtable Discussion with Janice Jackson and Katie Doyle
Walk with the Network Through the Chicago Botanic Gardens
Get to Know Your Government Leaders with Lt. Governor Juliana Stratton, Deputy Governor Sol Flores, and Senator Kimberly Lightford
Vermilion Outdoor Summer Dinner
Let's Talk Together - Chicago Women Restaurateurs Collaborate
Chicago Architecture Center Walk Through Bronzeville
Equity Discussion Forum with Sylvia Puente, Tina Tchen, and Angela Williams
Exclusive Lincoln Park Zoo Experience
Ilia Calderon in Conversation with Renetta McCann
Women on Boards with Blythe McGarvie and Clint Allen
Path Forward Panel with MarySue Barrett, Helene Gayle, Smita Shah, and Andrea Zopp
Special Virtual Notorious RBG Tour with the Illinois Holocaust Museum
Fifth Industrial Revolution Fireside Chat with Kate Duchene and Susan Gallagher
Women on Boards: Building Your Best Board Resume With Sara Greenstein, Tierney Remick, and Eva Sideman
Discussion on Rethinking Fundraising with Maria Kim and Paige Ponder
Virtual Mixologist Evening
Virtual New Member Breakfast
Top 10 Tips: Negotiating the Offer with Laurel Bellows
Top 10 Tips: Negotiating the Separation Agreement with Laurel Bellows
Is Board Service for Me? with Deb Boyda, Yasmine Winkler, and Katie Doyle
Harnessing Personal Power with Bravanti
Timely Topics with TCN Series Kick Off: The Future of Work and Your Employees with Jenny Niemann and Gina Berndt
Program with Maryam Banikarim from Nextdoor
Future of Work Session: Part 2 with Rebekah Kohmescher
Signature Private Dinners
ANNUAL MEETING
Our Annual Meeting was a truly exceptional event. We elected a new slate of Board of Directors, celebrated friendships, and enjoyed the wonders of the Museum of Science and Industry. The program's theme, "Rediscovering and Revitalizing Chicago and Illinois" was ideal as for many members this was the first time that they gathered in-person since the start of the pandemic. Our panelists Bridget Coughlin, President and CEO of the John G. Shedd Aquarium, Chevy Humphrey, President and CEO of the Museum of Science and Industry, Lynn Osmond, President and CEO of the Chicago Architecture Center, and moderator Lt. Governor Juliana Stratton had an dynamic and engaging conversation. Their insights on leading through the pandemic were inspirational.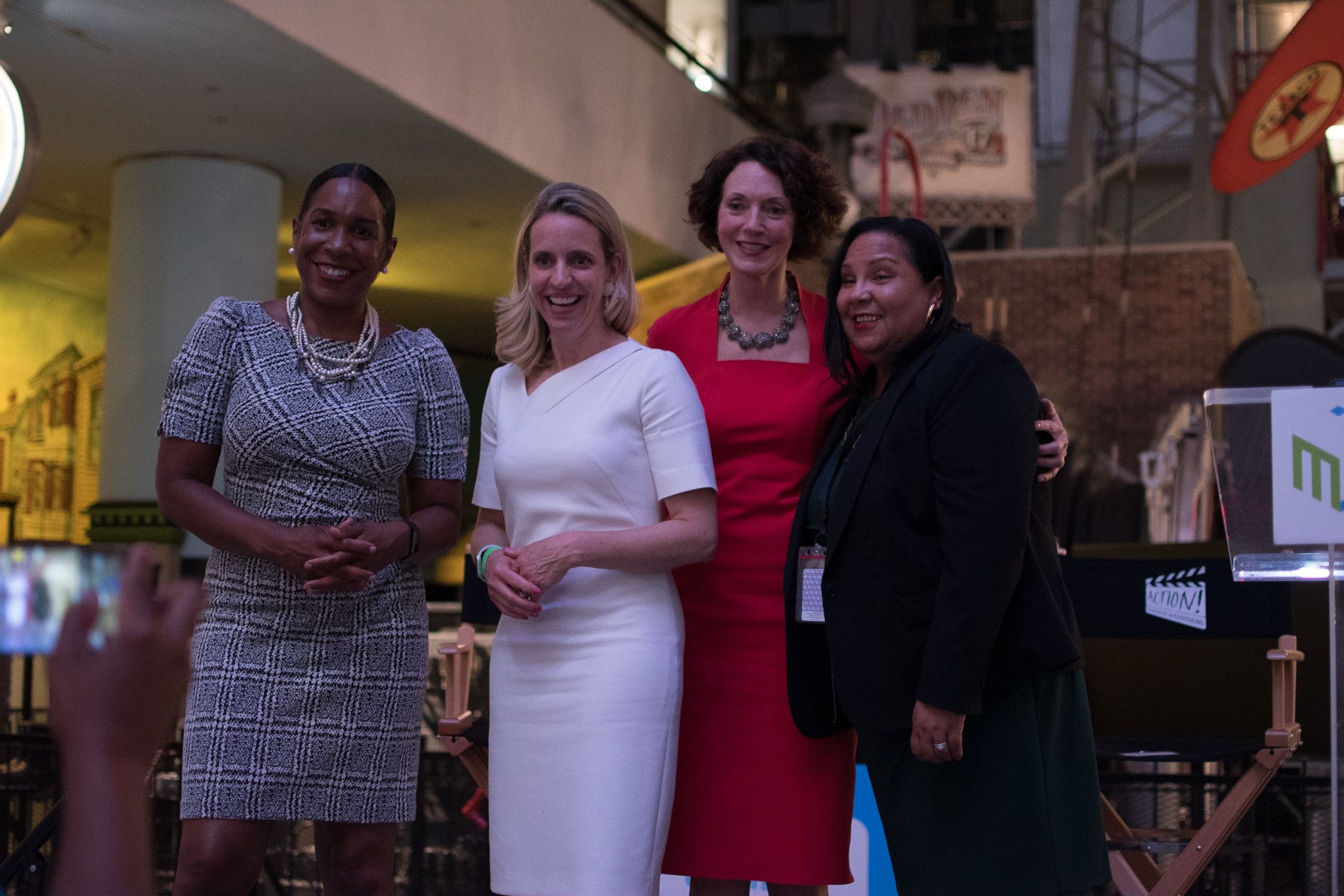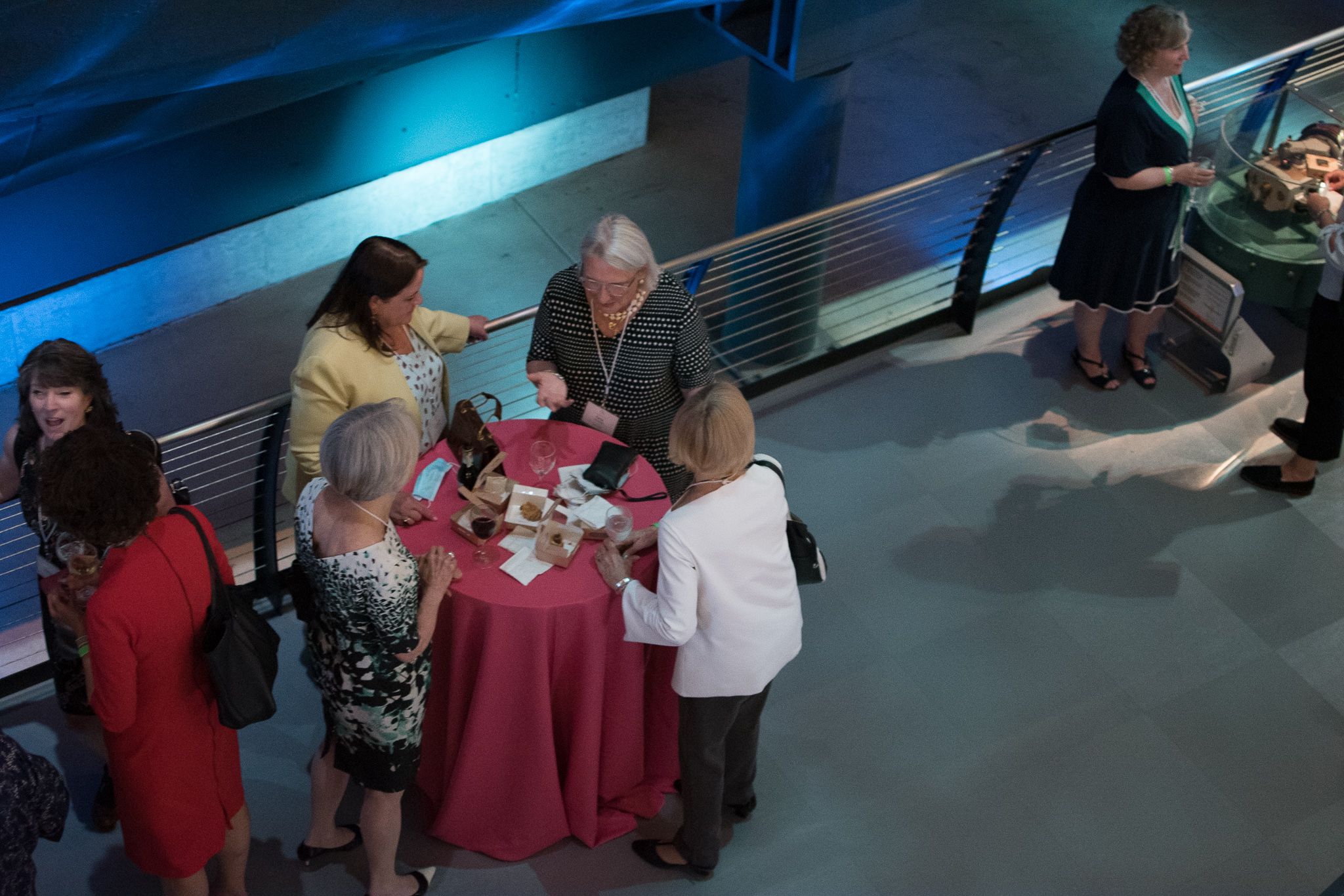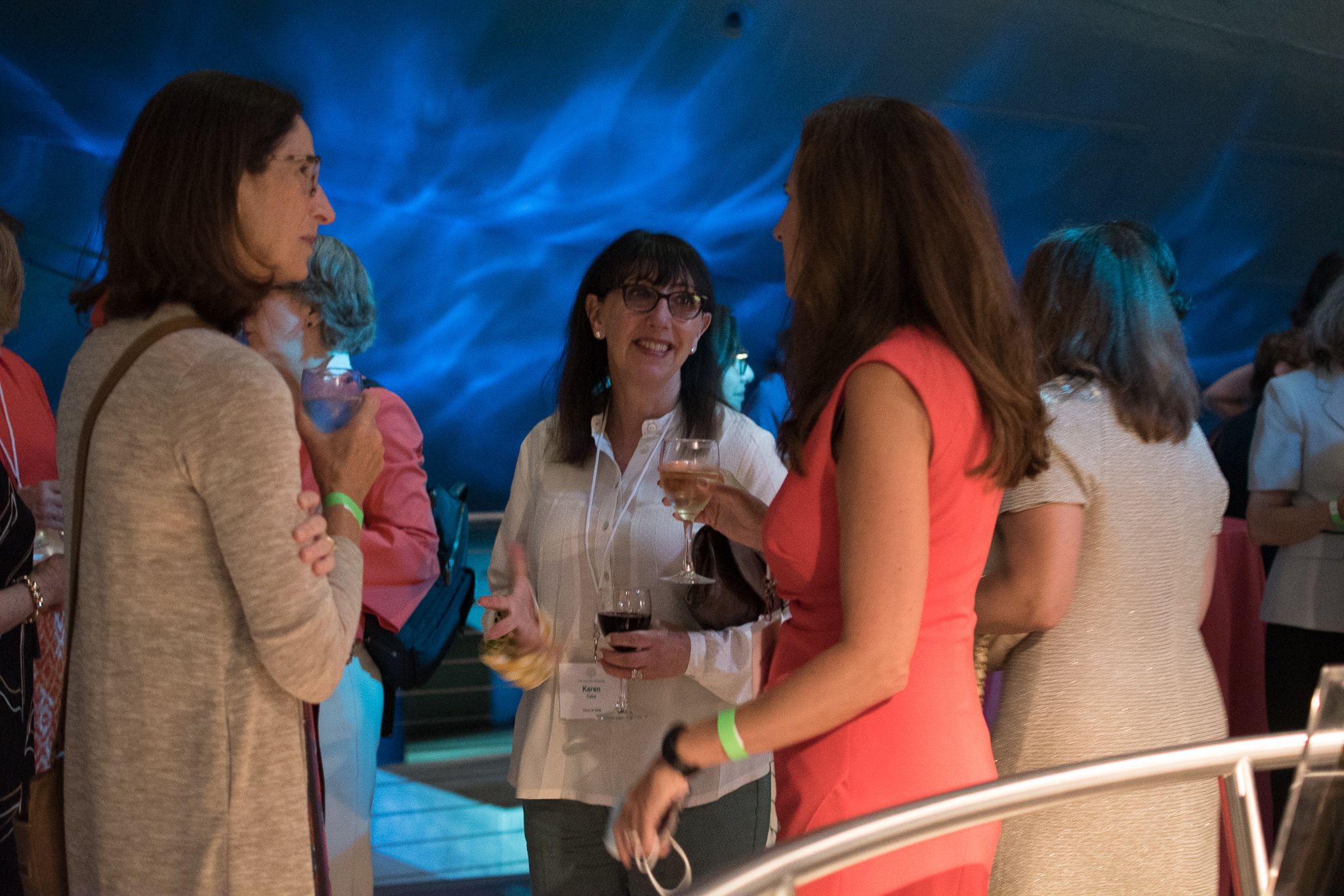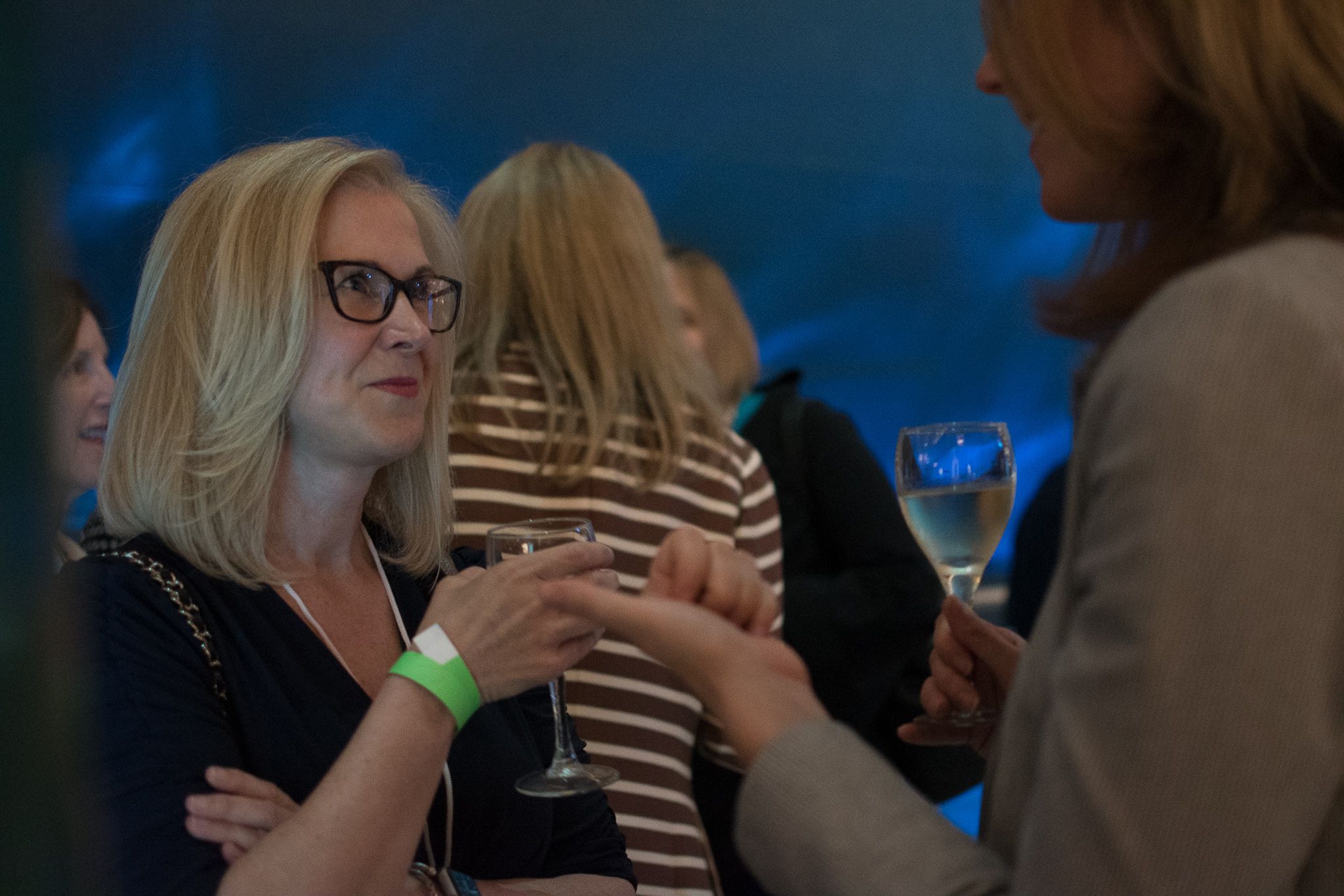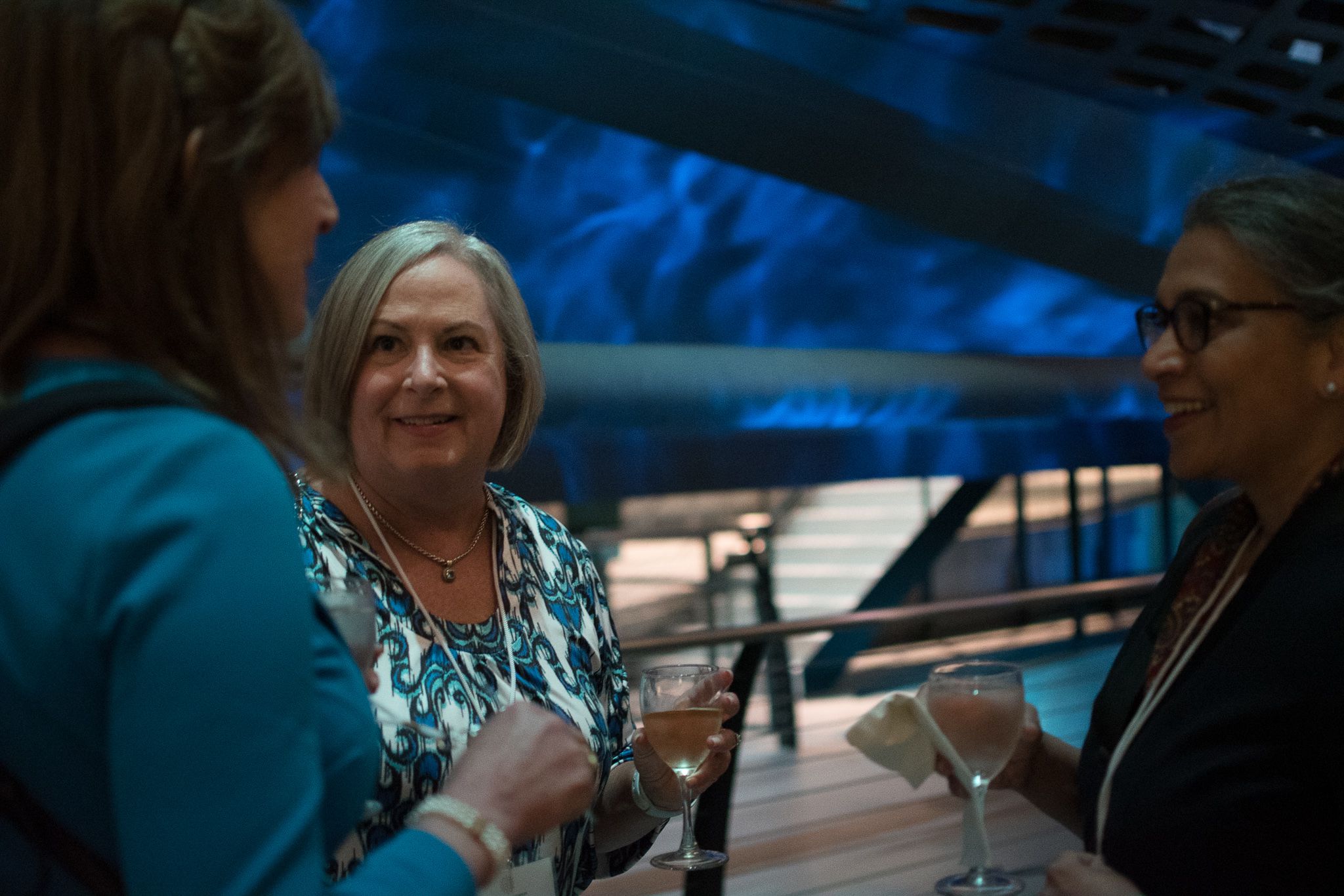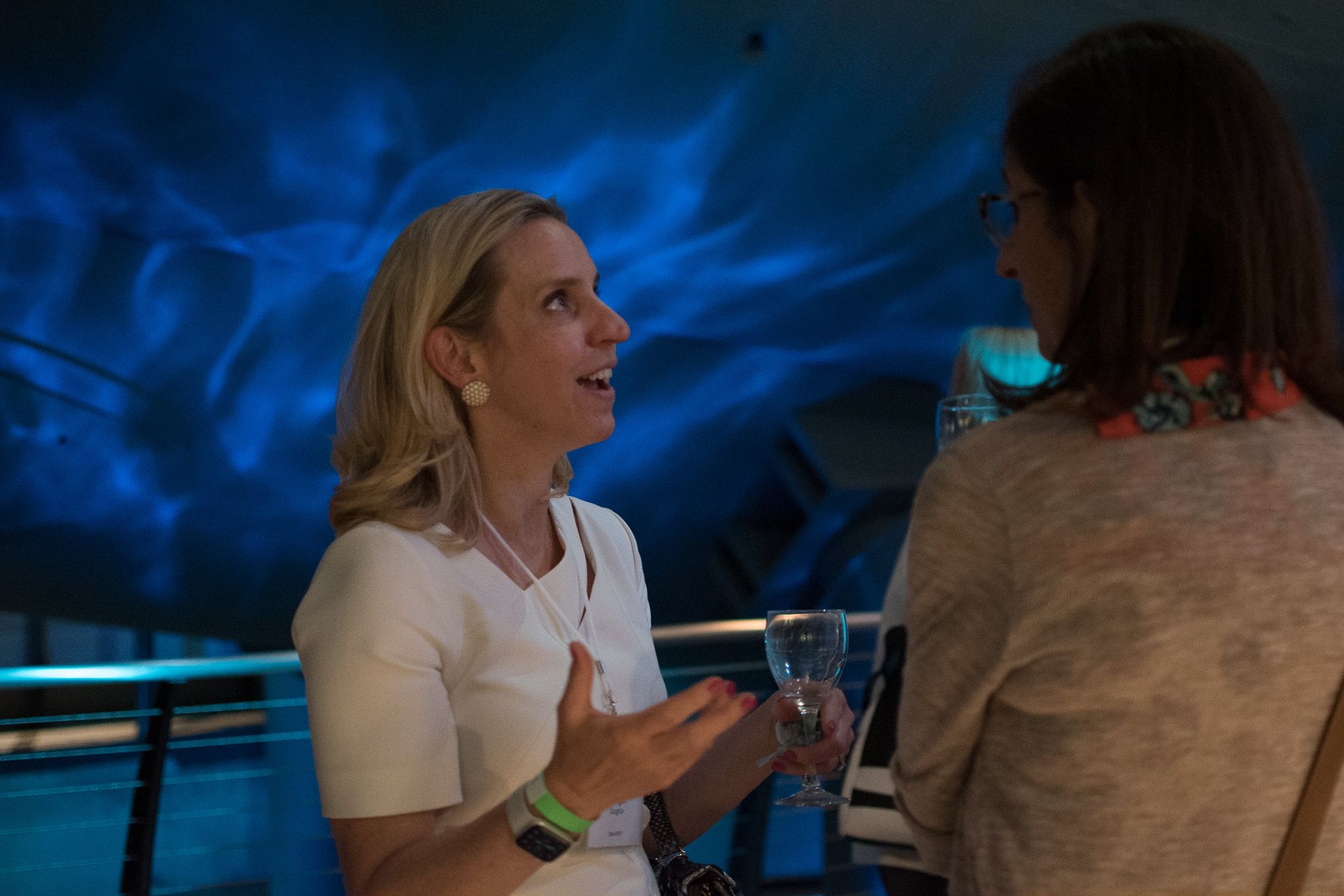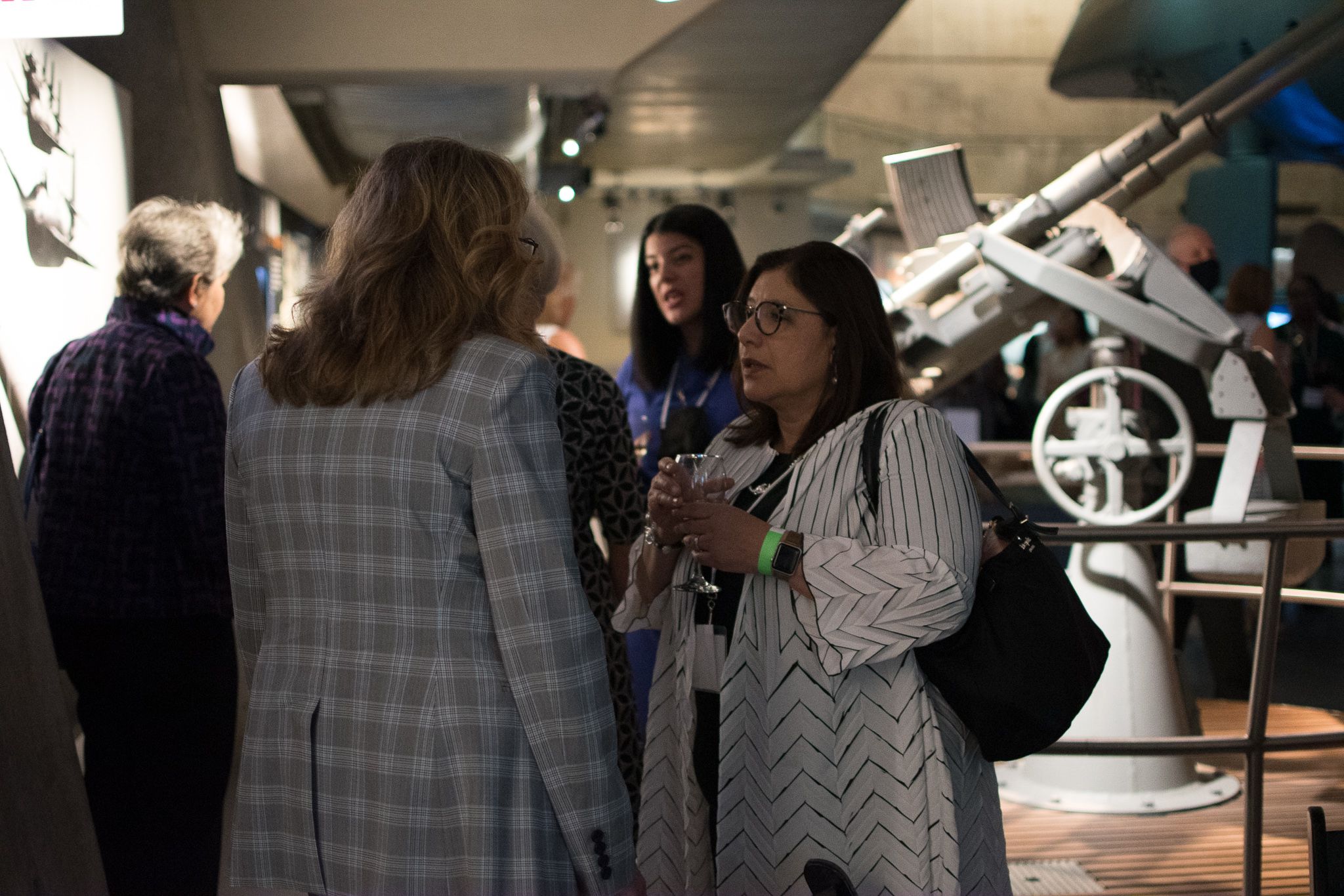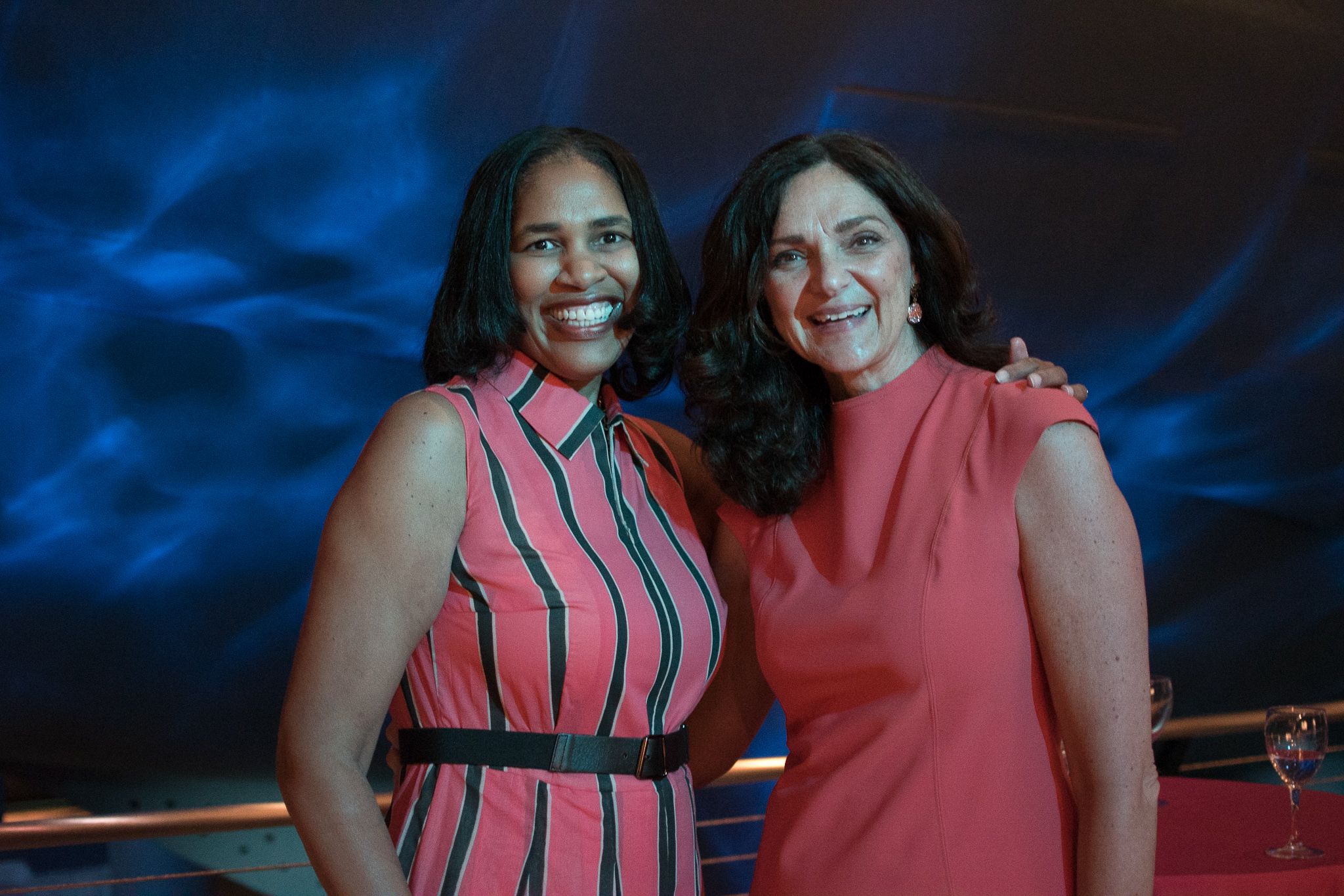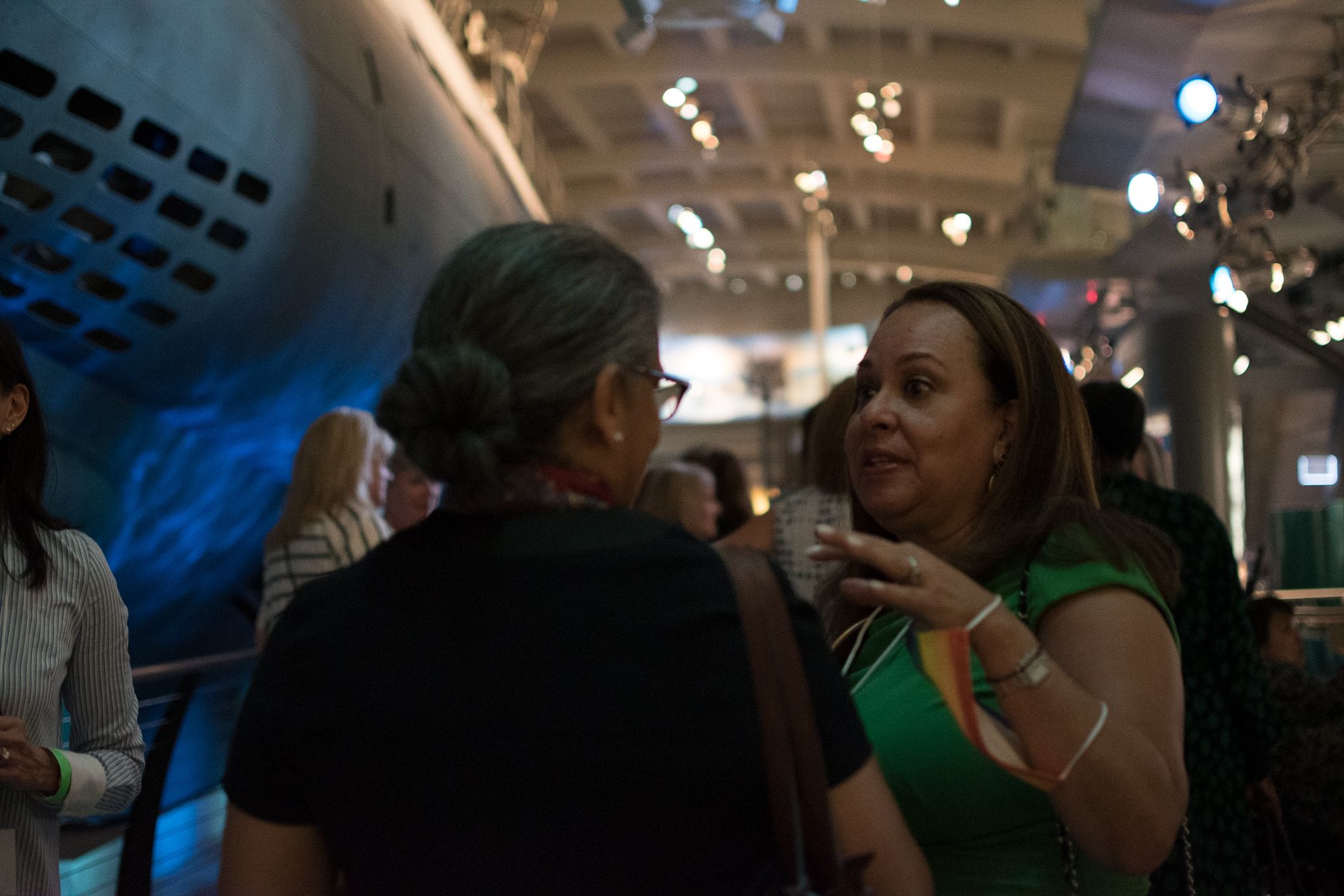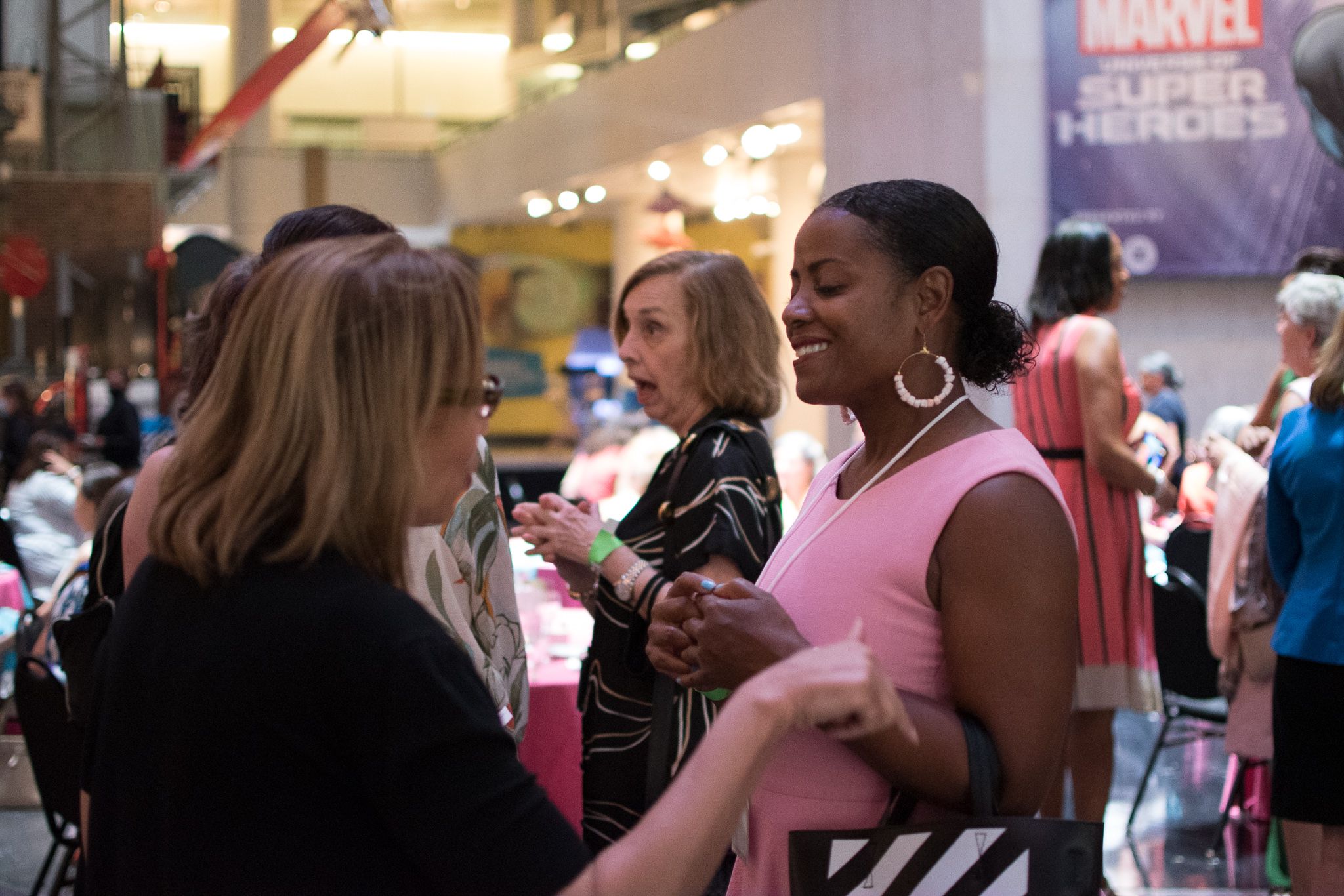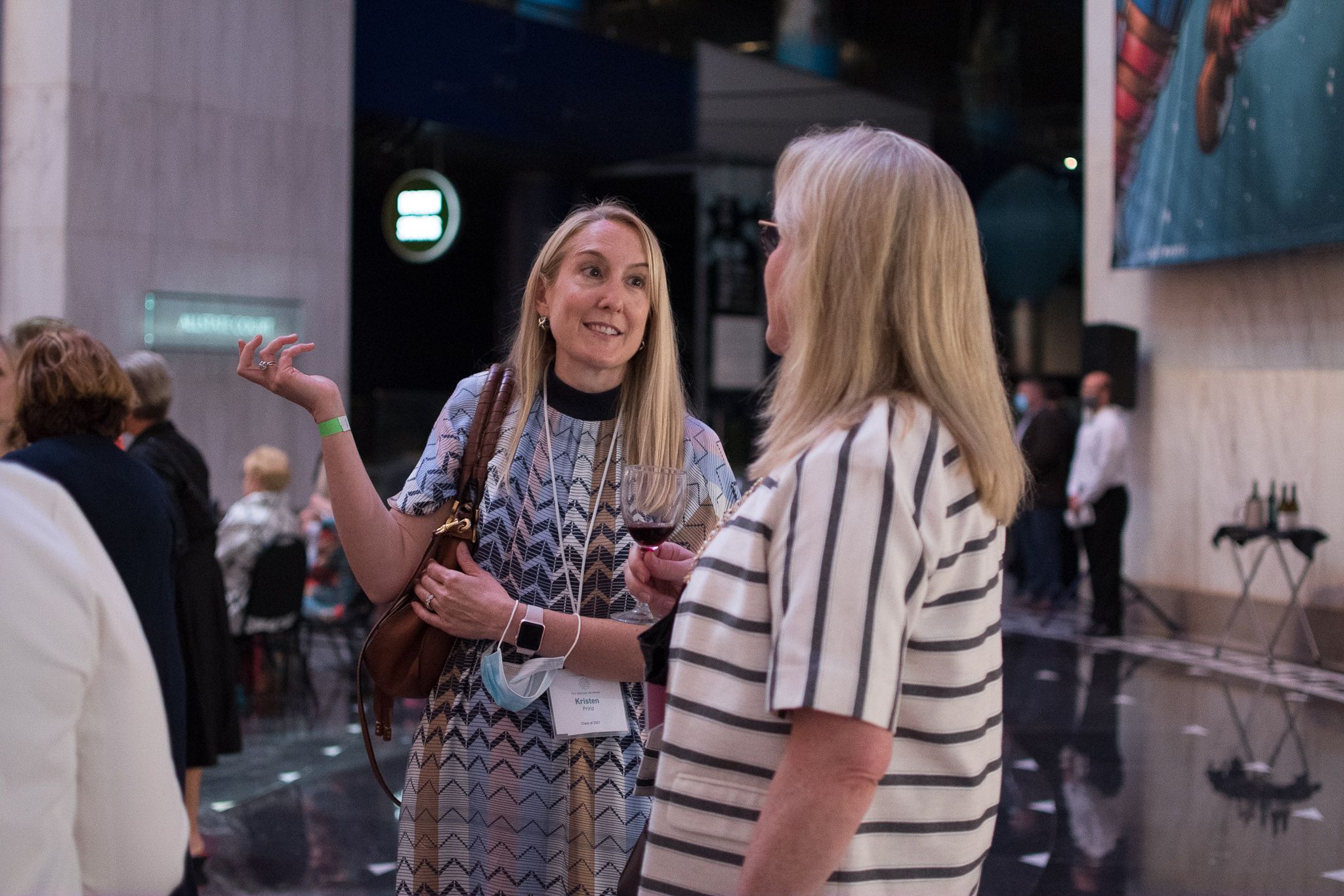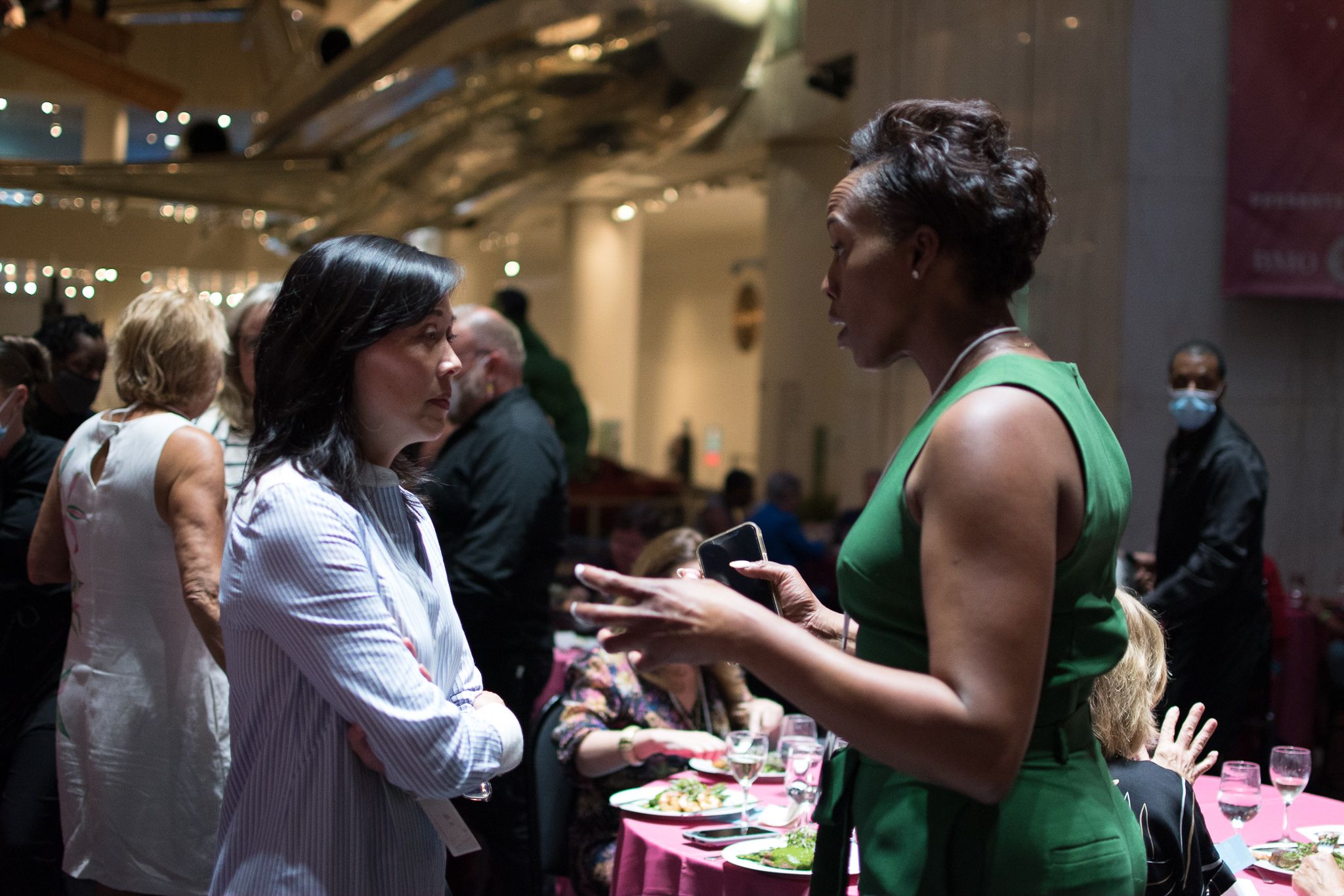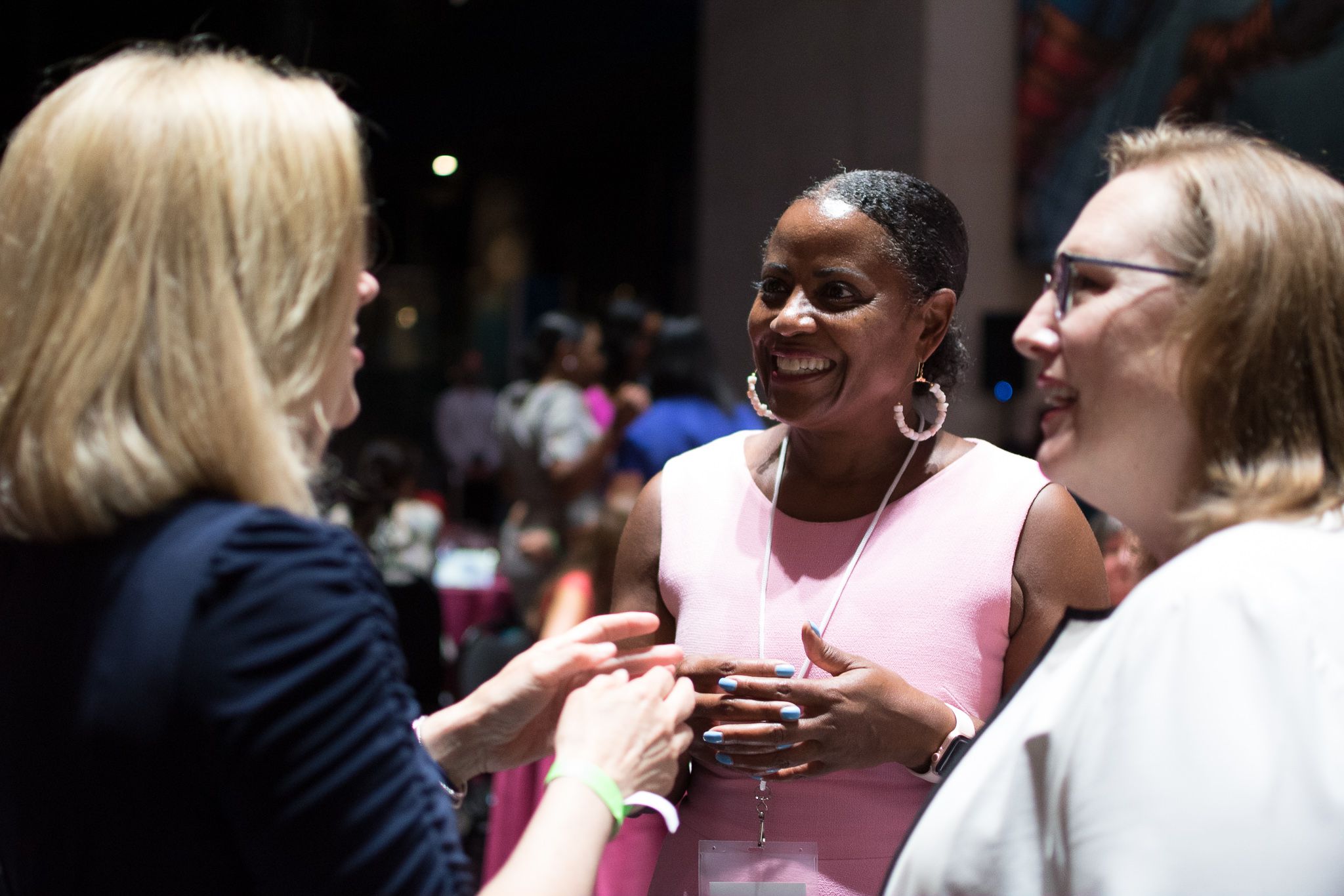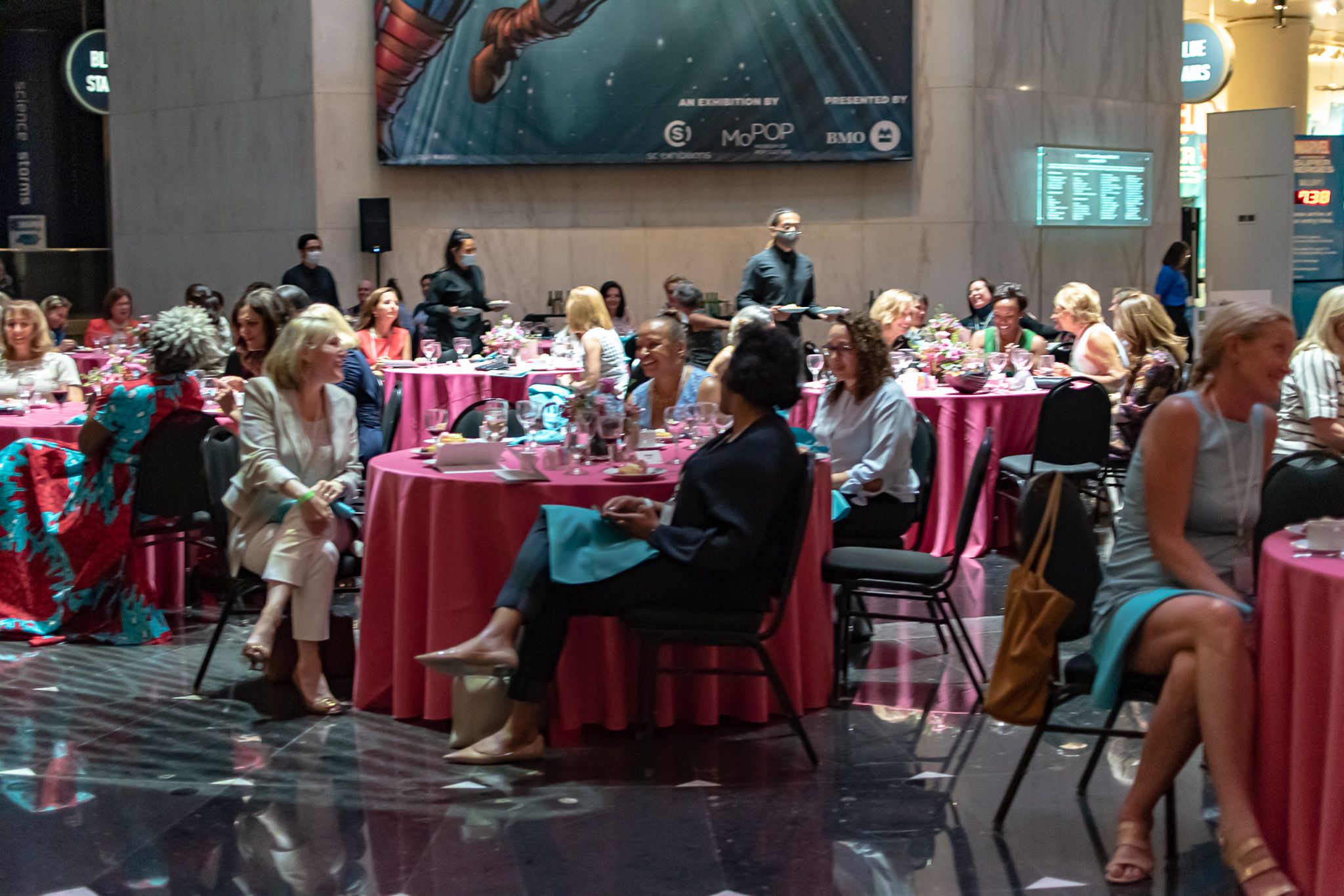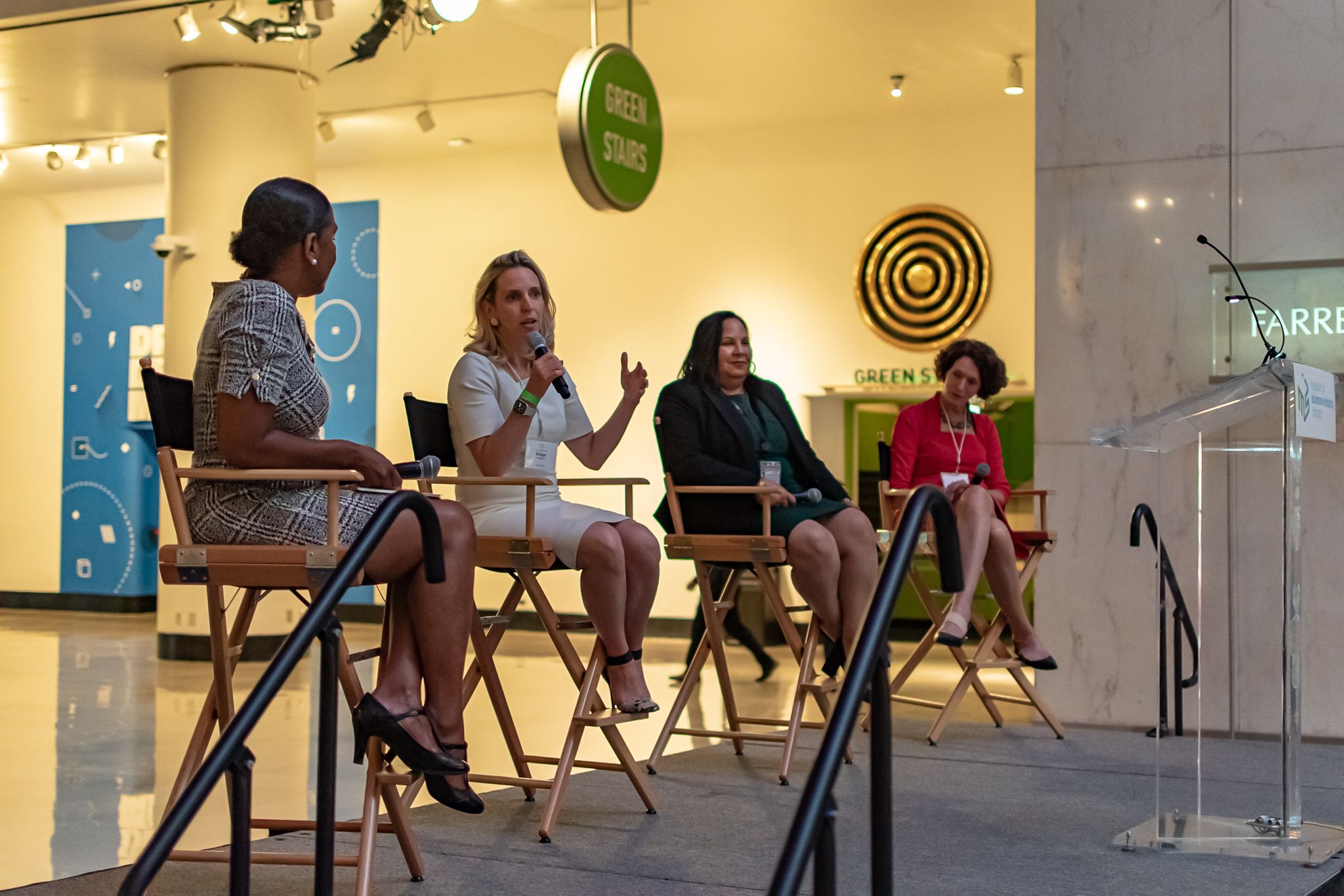 Women in the Forefront and Launch Pad
We successfully hosted three Women in the Forefront Luncheon (WIFL) events in one fiscal year. The WIFL Committee quickly pivoted to a virtual program in October 2020 offering two member led fireside chats with two remarkable women, Cathy Engelbert, first Commissioner of the WNBA and Dr. Carla Hayden, Librarian of Congress. Although we were new to hosting on a virtual platform for over 1,000 participants, both events were well received by attendees and sponsors.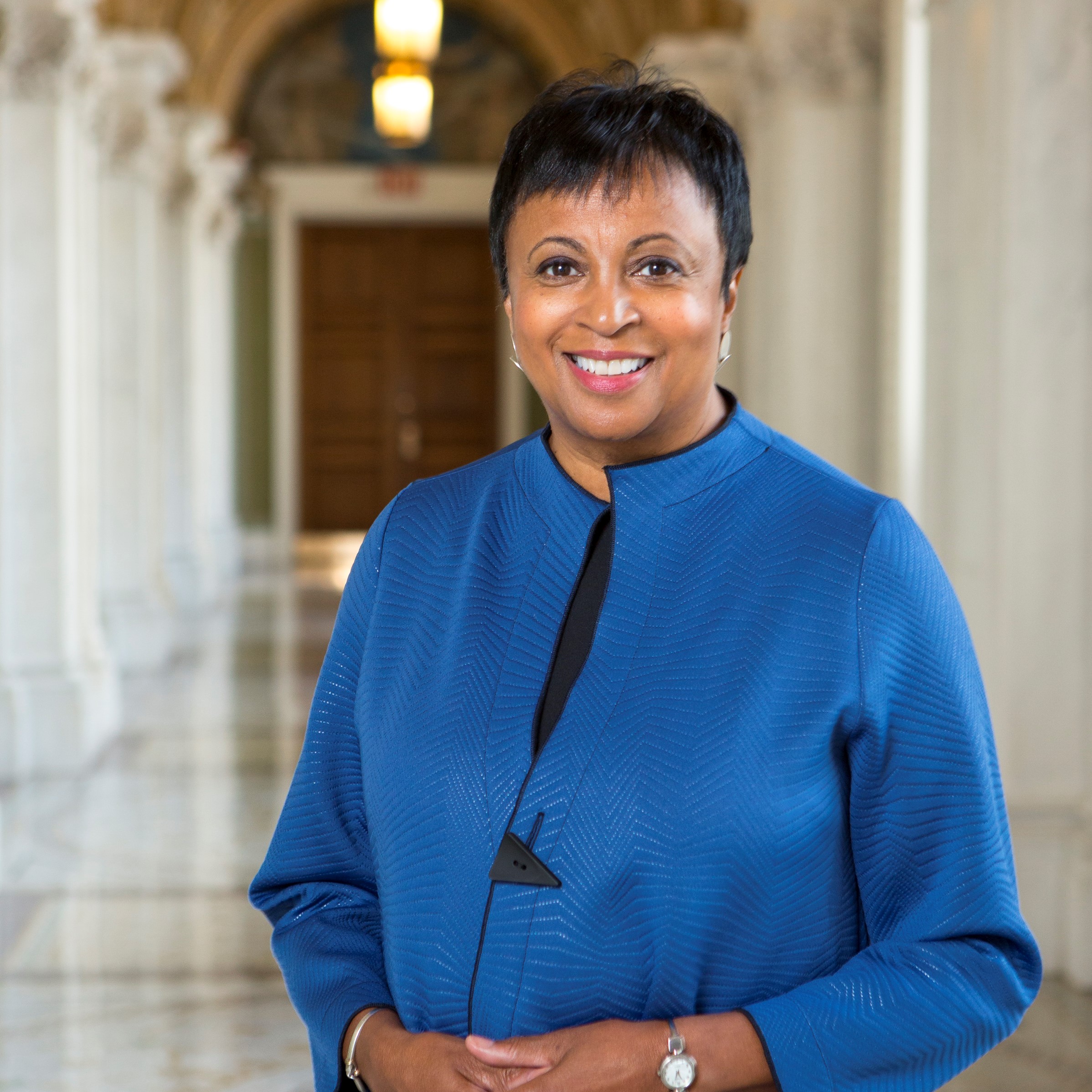 Drawing on this experience, in June, we effectively presented the City's first large scale hybrid event since the beginning of the pandemic. Producing WIFL and Launch Pad Women's Leadership Summit at Navy Pier, one of the Chicago's iconic cultural institutions, was extraordinary. The energy and enthusiasm of the 850 in-person and 600 virtual attendees was unparalleled.
Images from WIFL and Launch Pad 2021
Launch Pad 2021 Highlights:
Initiatives: Paying it Forward
Future Leaders Program
Our Future Leaders Program supports the Chicago Network's goal of developing the next generation of women leaders by providing outstanding female college students at partnering schools an opportunity to explore career paths in the business and non-profit sectors.

This year of virtual engagement, we were in the unique position to admit more students to the program. Working with Dominican University, Chicago State University, and the University of Illinois at Chicago, our 2020-2021 class was 98% women of color and an overwhelming majority first generation college students. TCN members facilitated 14 virtual educational and inspirational sessions. The students were committed to learning and receiving insights from our members, who were dedicated to fostering and nurturing curiosity.
"
This program is FANTASTIC. I feel so empowered as a woman and made great connections with other students and professionals. Thank you.
Thank you to our partner schools,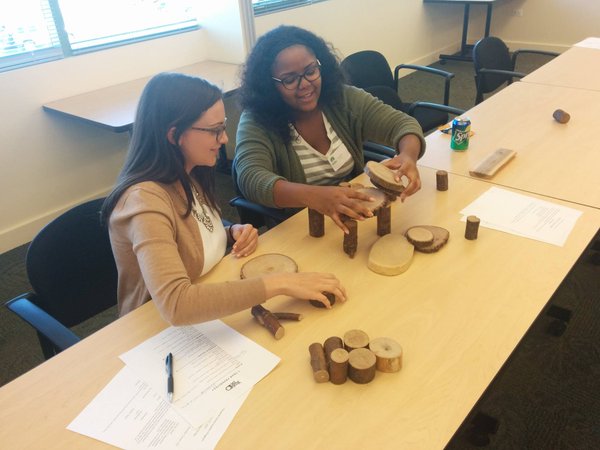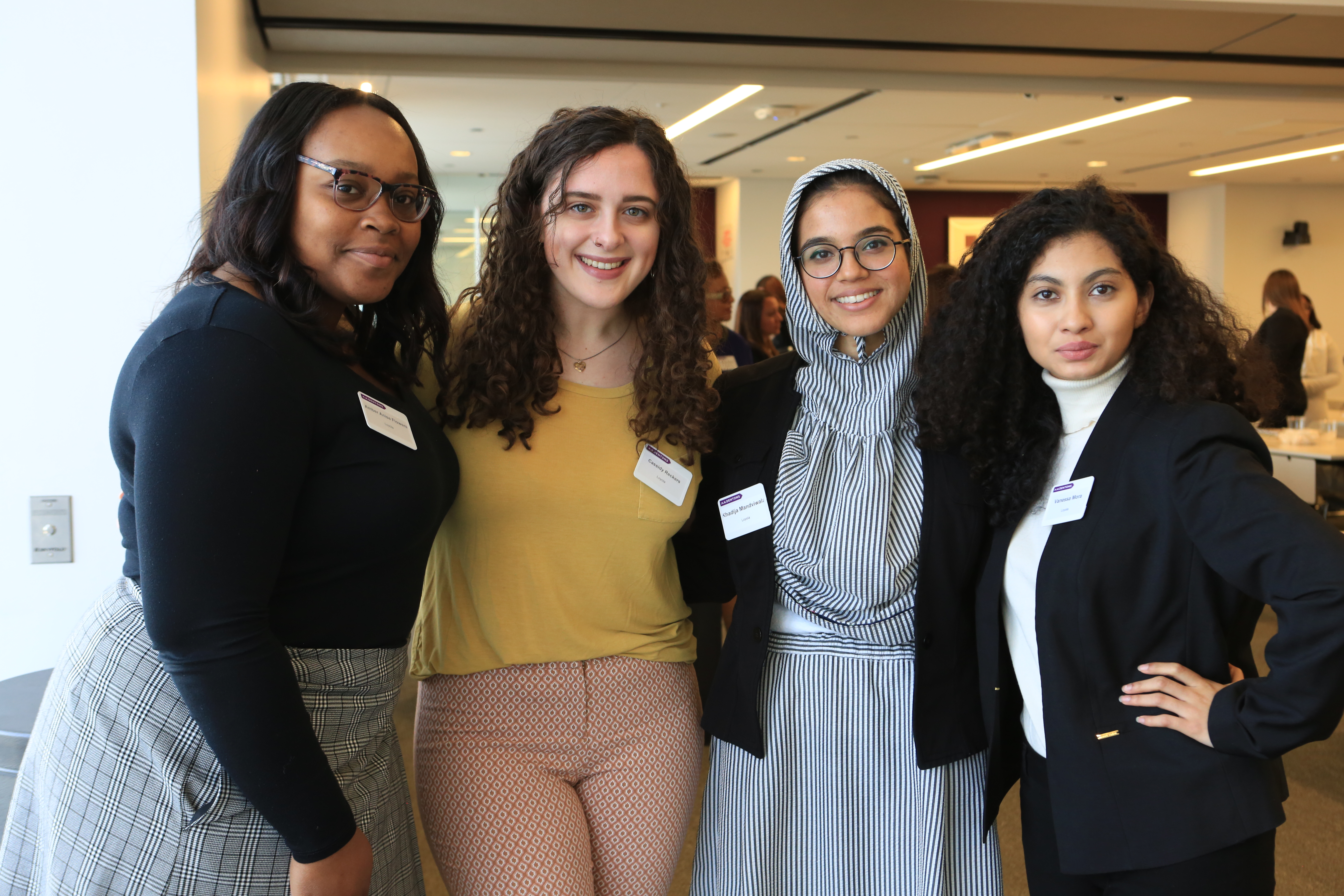 Executive Women's Mentorship Initiative
Our seventh year of continued partnership with the Executives' Club of Chicago on the Executive Women's Mentorship Initiative. The Chicago Network members continue to develop and mentor women in this program.


"
The Executives' Club of Chicago is proud to partner with The Chicago Network on The Executive Women's Mentorship Initiative. This program plays an important role in connecting women in leadership across industries and functions. We appreciate The Chicago Network's support in helping us create meaningful connections.

- Margaret Mueller
President and CEO
Executives' Club of Chicago
TCN Member
Building Brave
After only the first year of launching our virtual mentoring community through the Building Brave app, we realized significant activity and engagement on the platform. We have 200 active members and nearly 17,000 engagement actions. Our dedicated TCN members offer career advice and guidance. Additionally, Building Brave is a free resource to our members' employee base.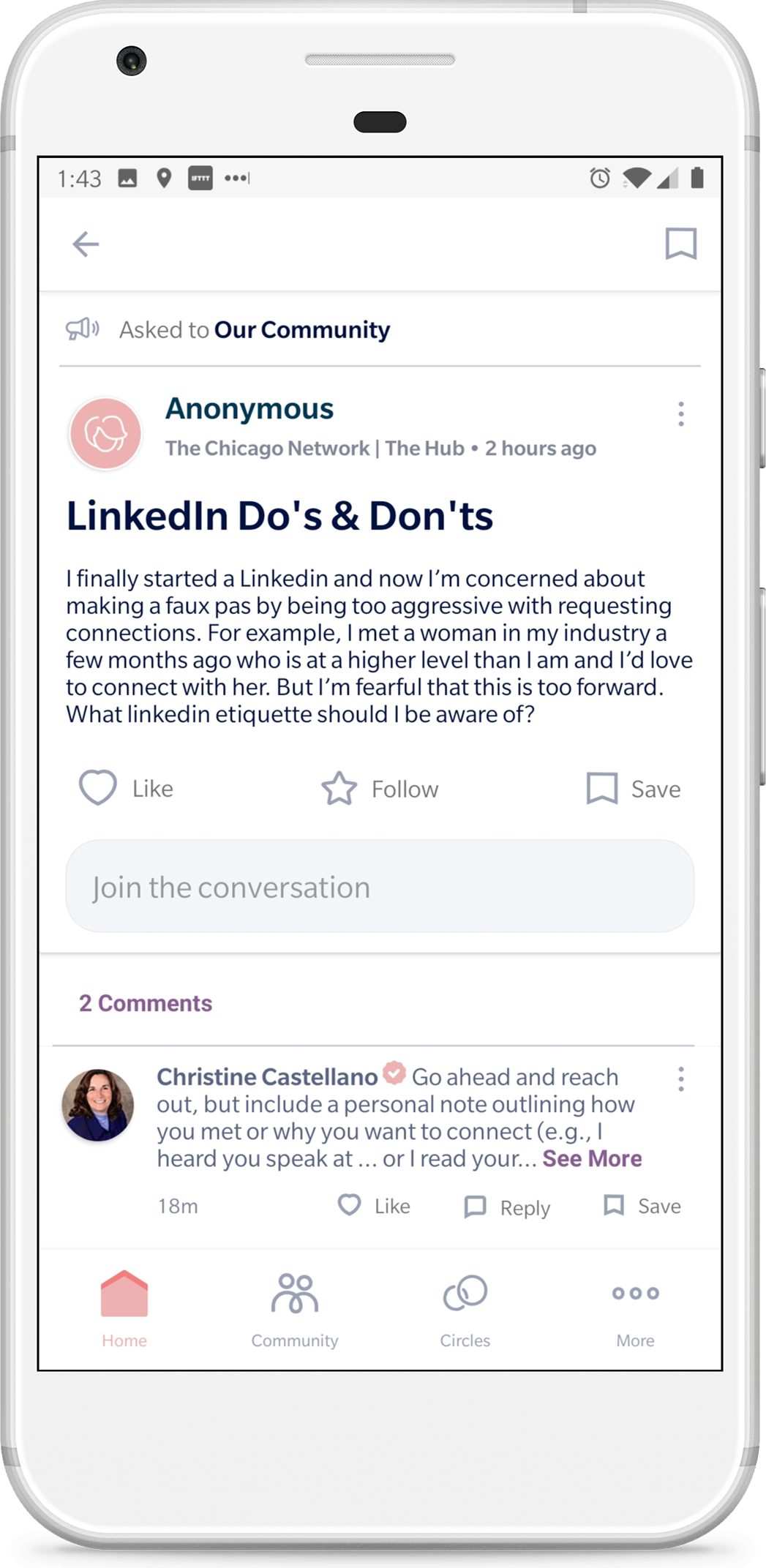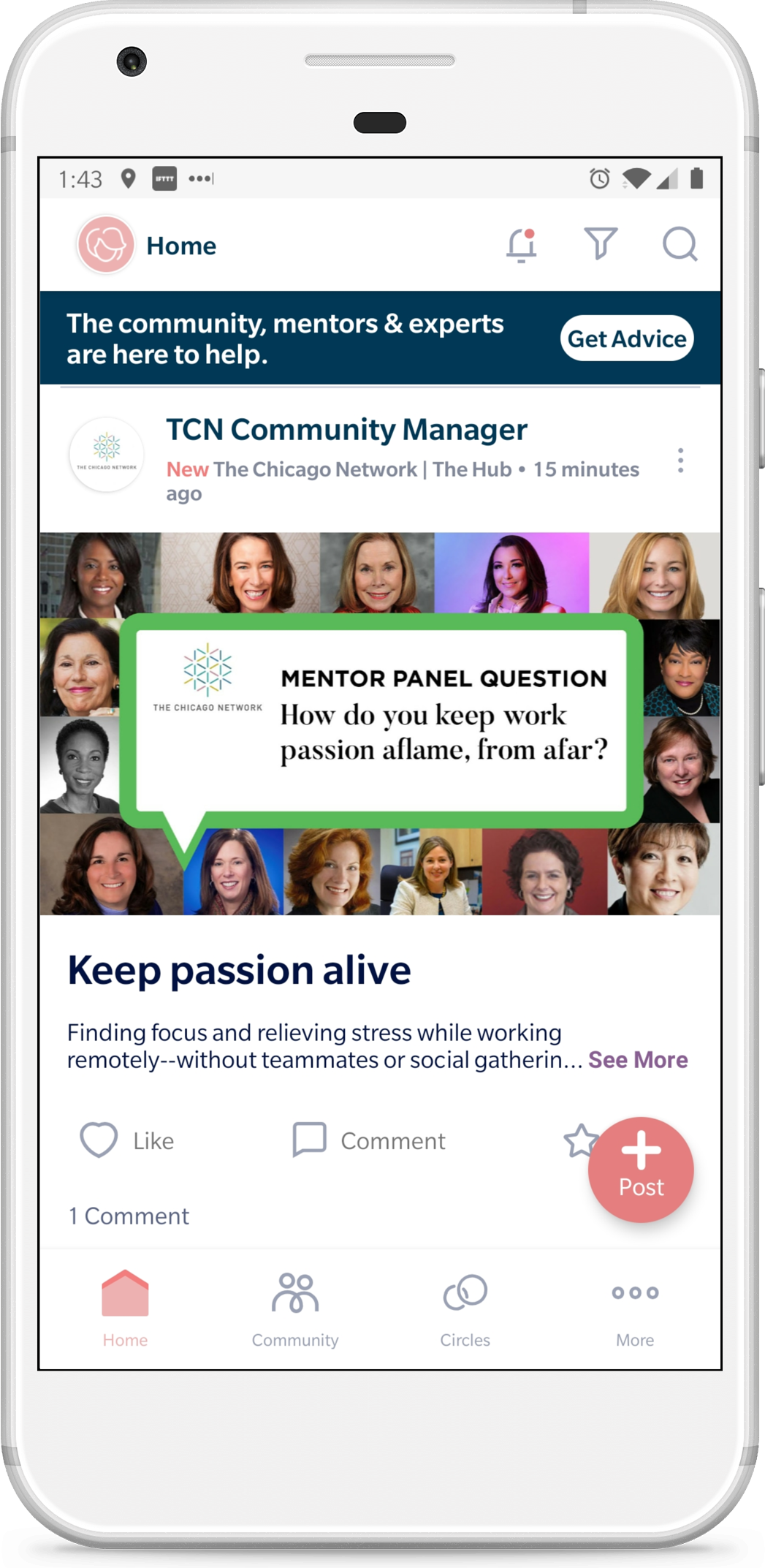 Meeting Women Where They Are
Leadership
Board of Directors
CHAIR
Cary Grace

VICE-CHAIR; CHAIR ELECT
Denise Cade

SECRETARY-TREASURER; FINANCE and AUDIT CHAIR
Roxanne Martino

COMMUNICATIONS CHAIR
Kary McIlwain

PROGRAMS and ENGAGEMENT CO-CHAIRS
Cathy Kenworthy
Jenny Niemann


ENGAGEMENT CHAIR
Cathy Kenworthy

FUTURE LEADERS CHAIR
Maria Pesqueira

GOVERNANCE CHAIR
Angela Williams

MEMBERSHIP CHAIR
Suzet McKinney

PAST CHAIR
NOMINATING COMMITTEE CHAIR
Diane Offereins


WOMEN ON BOARDS CHAIR
Sara Greenstein

WOMEN IN THE FOREFRONT CO-CHAIRS
Beth Kirk Malecki
Yasmine Winkler

AT LARGE
Teri Arvesu
Deb Boyda
Sidney Dillard
Grace Hou
Michelle Larson
Linda Imonti
Joyce St. Clair
Patricia Holmes


Committees
EXECUTIVE

Cary Grace, Chair
Denise Cade
Roxanne Martino
Diane Offereins

FINANCE AND AUDIT

Roxanne Martino, Chair
Denise Cade
Sidney Dillard
Linda Imonti

FUTURE LEADERS

Maria Pesqueira, Chair
Roseanna Ander
Shan Bhati
Sandra Cordova Micek
Gillian Darlow
Karyn Esken
Brenda Feis
Gail Hasbrouck
Grace Hou
Susan Jacobs
Robin Kelly
Deborah Lahey
Marilyn Lissner
Kate Maehr
Renetta McCann
Jennifer Nijman
Jennifer Rosato Perea
Susan Stelter
Cheryl Whitaker
Maxine Winer
Yasmine Winkler


GOVERNANCE

Angela Williams, Chair
Patricia Brown Holmes
Grace Hou

MEMBERSHIP

Suzet McKinney, Chair
Teri Arvesu
Verneda Bachus
Gina Berndt
Sidney Dillard
Sarah Herda
Terri Mascherin
Jane Mentzinger
Susan Poser
Julie Scott
Z Scott
Yasmine Winkler

PROGRAMS AND ENGAGEMENT

Cathy Kenworthy (Programs) and Jenny Niemann (Engagement), Co-Chairs
Bonnie Allen
Aurora Austriaco
Tracey Benford
Deborah Bowen
Barbra Bukovac
Karen Case
Maria Carrillo
Elizabeth Coolidge
Regine Corrado
Lisa Corrin
Monica Davey
Angelique David
Mitra Dutta
Opella Ernest
Karyn Esken
Pamela Forbes Lieberman
Sarah Guernsey
Sandra Helton
Mary Jo Herseth
Grace Hou
Erin Inman
Katie Lawler
Marilyn Lissner
Dorri McWhorter
Nivine Megahed
Carla Michelotti
Theresa Mintle
Jill Nicholson
Diane Primo
Libbet Richter
Jacqueline Stewart
Joyce St. Clair
Ann Thompson
Anna Valencia
Brooke Wiseman
Amanda Woodward
Kathleen Yosko


WOMEN IN THE FOREFRONT LUNCHEON

Yasmine Winkler and Beth Kirk Malecki, Co-Chairs
Sue Bettman
Regine Corrado
Julie Scott
Kathy Seegebrecht
Jill Smart
Joyce St. Clair

WOMEN ON BOARDS

Sara Greenstein,
Co-Chair
Deb Boyda
Katie Doyle
Mary Josephs
Blythe McGarvie
Tierney Remick
Yasmine Winkler
Ann Ziegler


COMMUNICATIONS

Kary McIlwain, Chair
Gayla Brockman
Kathleen Carroll
Yvonne Franzese
Lindsay Jenkins
Diane Pearse
Aurelie Richard
Michelle Russell

NOMINATING

Diane Offereins, Chair
Denise Cade
Francesca DeBiase
Christine Edwards
Cary Grace
Sheila Talton

EMERITA

Libbet Richter, Chair
Ellen Carnahan
Sandra Helton
Eva Maddox
Barbara Provus
Anna Rappaport
Toni Smith


Staff