Welcome from Cary Grace and Diane Offereins
Welcome to our 2019-2020 Year in Review! While this year was one of disruption and innovation for our organization, we continued to live into our purpose, empowering women to lead, mission, vision, and values in all that we do. We launched several new digital initiatives, elected our most diverse slate of new members, and found new paths for strategic improvements. Also of great significance to our operations, we selected and smoothly executed leadership succession, announcing Maria Doughty as our new President and CEO in March 2020. Maria is no stranger to crisis management and in short, she is the right leader at the right time for us.

Our hope is that within 10 years we will be at the next frontier of women's equity and inclusion because The Chicago Network will have helped meaningfully move the ball forward from where we are today. Because of engagement/support in all the activities and initiatives you see reflected inside, we know there will continue to be an abundance of stories about how The Network has made a difference in empowering women of all colors to lead.

Sincerely,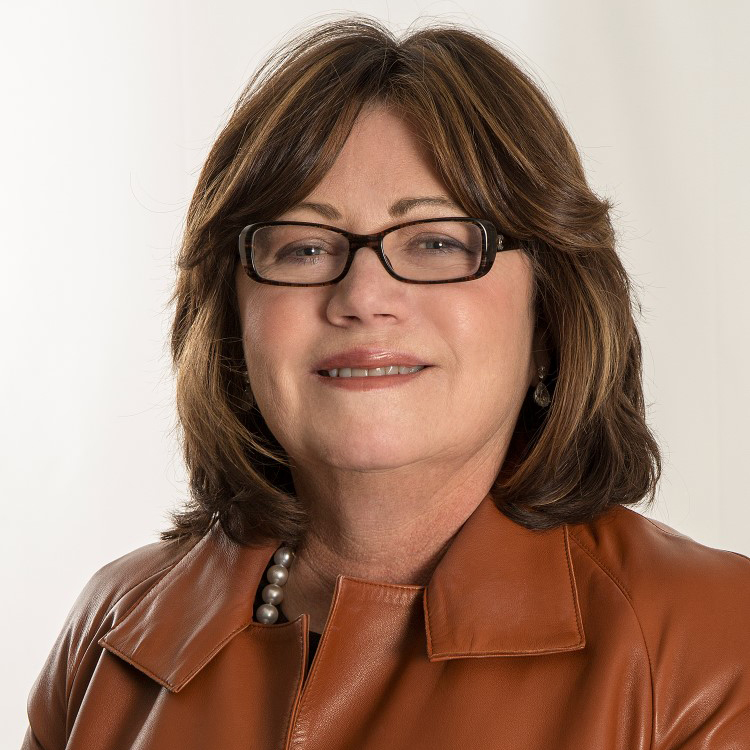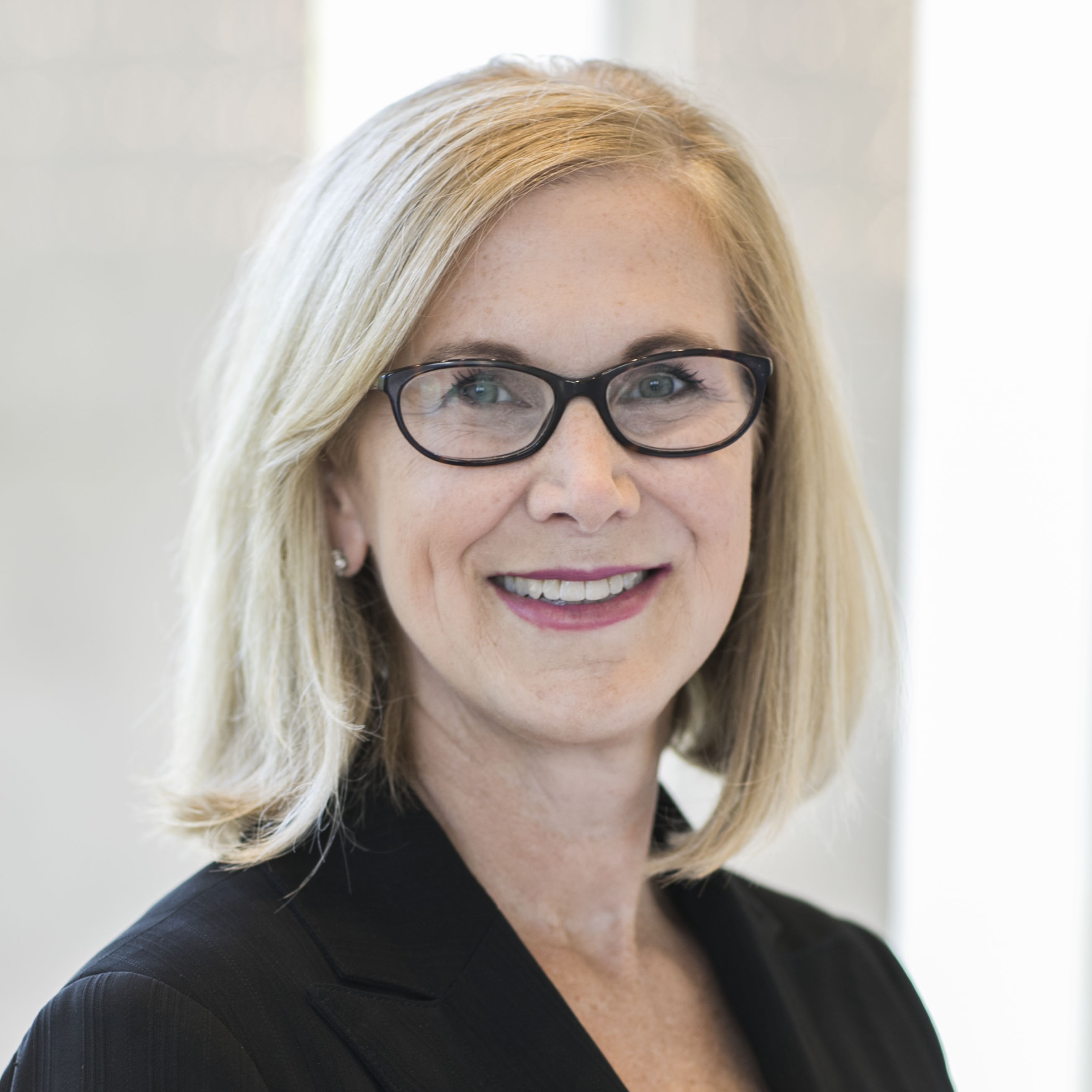 Leadership Succession: Recognizing Our CEOs
Kate Bensen
During her decade of service to The Network, Kate's innovative vision, commitment to our mission, and tireless work have elevated our external position, amplified our voice, and professionalized our operations. In leadership, it is always our goal to grow and evolve, leaving an organization even better than we found it. Kate has done that magnificently. On behalf of our membership, we are incredibly grateful to and for her.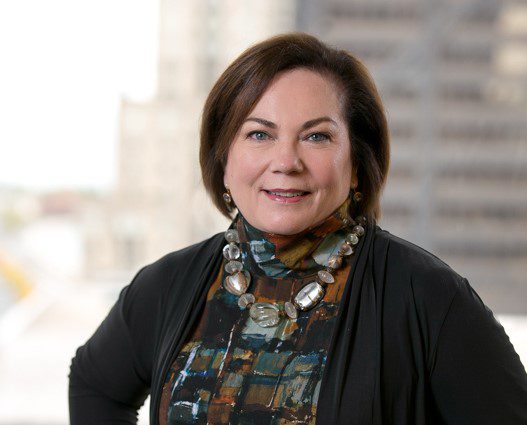 Maria Salterio Doughty
"I have always approached my life, both personally and professionally, from a place of gratitude and service. This is how I was raised and how I lead. I am honored to carry forth The Network's mission of empowering women to lead."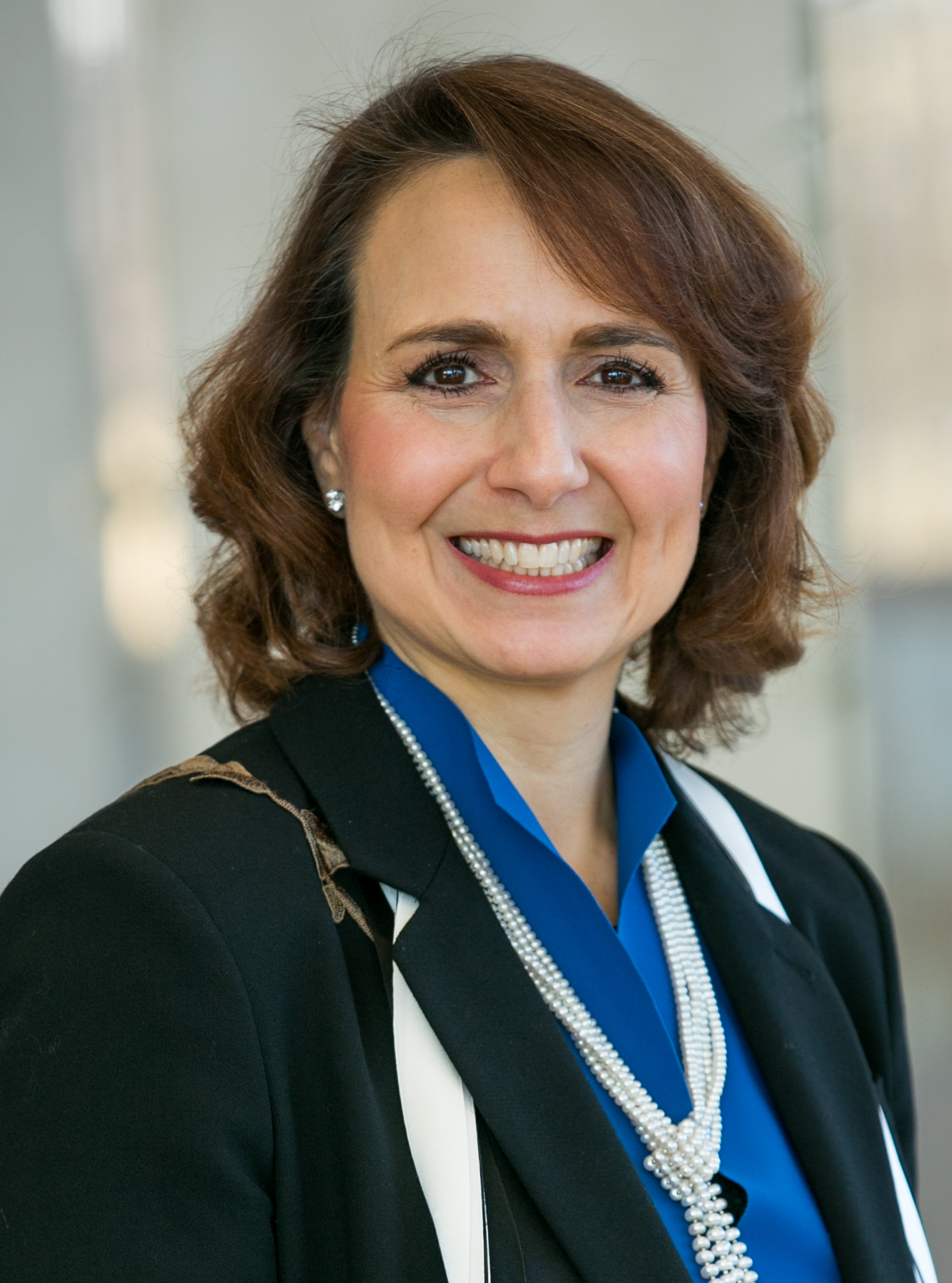 Purpose, Mission, Vision, Values
Purpose:
Why do we exist?

To empower women to lead

Mission:
How will we fulfill the promise?

Connect with each other for personal and professional growth
Advance our civic, business and philanthropic communities
Inspire and support the next generation


Vision:
What is our vision of success?

Gender Equity for Women of All Colors. At All Levels. Everywhere.

Values:
What core values shape our behaviors and actions?

Empathy: We meet women where they are
Generosity: We selflessly pay it forward
Equity: We are relentless in righting the balance
Collectivity: We are stronger together
Our Members
About Our Members
41
Fortune 500 C-Suite Executives
2.8T
Publically held member companies represent more than 2.8 Trillion in Market Cap
4.7M
Member companies employ more than 4.7 million people
8
Current and Former Fortune 500 CEOs
76%
CRAIN'S most Powerful Women in Chicago Business
20%
CRAIN'S Power 25 Chicagoans
27
Arts & Culture Trailblazers
77
Corporate C-Suite Executives
55
CEOs & Entrepreneurs of Mid-Size Companies
22
Healthcare Industry Executives
26
Higher Education Institution Leaders
36
Media & Communications Executives
New Members
Bonnie Allen
Executive Director & CEO
Chicago Lawyer's Committee for Civil Rights

Shan Bhati
Global Chief Administrative Officer & General Counsel
Edelman

Charisse Brock
EVP & CHRO
Conagra Brands

Gayla Brockman
President & CEO
Michael Reese Health Trust

Cari Bucci-Hulings
President
Marc USA

Sharon Bush
Executive Director
Grand Victoria Foundation

Kathleen Carroll
Senior Vice President and Chief Human Resources Officer
Grainger

Elizabeth Coolidge
Managing Director, Regional Head Public Finance-Midwest
UBS

Lisa Corrin
Director
Block Museum of Art, Northwestern University

Angelique David
Executive Managing Director, Chief Operating Officer and General Counsel
Ziegler

Jessica Droste Yagan
CEO & Managing Partner
Impact Engine

Cheryl Durst
EVP & CEO
International Interior Design Association (IIDA)

Opella Ernest
SVP Operations
Health Care Service Corporation (HCSC)

Esther (ET) Franklin
President, Global Strategy & Cultural Fluency
Spark Foundry


Yvonne Franzese
Chief Human Resources Officer and Exec Vice-President
CNO Financial Group

Aurora Austriaco
Partner and Shareholder
Valentine Austriaco and Bueschel, P.C.

Lisa Freeman
President
Northern Illinois University

Maricela Garcia
CEO
Gads Hill Center

Lindsay Jenkins
Chief, Criminal Division
U.S. Attorney's Office

Katie Lawler
SVP & CHRO
Illinois Tool Works, Inc.

Julie Marcello
Marsh
Managing Director, Head of Office Marsh Chicago

Clare Metcalf
Managing Director
Russell Reynolds Associates

Britt Miller
Partner, Litigation; Partner-in-Charge, Chicago Office
Mayer Brown LLP

Kimberly Moore
President
KDM Engineering

Tracie Morris
U.S. Chief Human Resources Officer and Inclusion Officer
BMO Financial Group

Na'ilah Suad Nasir
President; President-Elect
Spencer Foundation; American Educational Research Association

Laura Neiman
President & CEO
Neiman Brothers Company, Inc.


Kathleen O'Loughlin
Executive Director, COO
American Dental Association

Diane Pearse
CEO & President
Hickory Farms, LLC

Talita Ramos Erickson
General Councel (Americas) and CEO (Restaurants)
Barilla Group

Megan Ross
Zoo Director
Lincoln Park Zoo

Jacqueline Stewart
Professor, Cinema & Media Studies and Director, Arts and Public Life
University of Chicago

Michelle Stohlmeyer Russell
Managing Director and Senior Partner
Boston Consulting Group (BCG)

Juliana Stratton
Lieutenant Governor
State of Illinois

Ann Thompson
Senior Vice President Architecture & Design
Related Midwest

Wanji Walcott
EVP, CLO & General Counsel
Discover Financial Services

Teresa Woodruff
Northwestern University
The Thomas J. Watkins Professor of Obstetrics and Gynecology & Dean of The Graduate School and Assoc

Betsy Ziegler
CEO
1871


Initiatives: Inspiring The Next Generation
Broader influence and advocacy with Equity Principles
As we passed the one-year anniversary of our Equity Principles campaign, the necessity of promoting and achieving equity became more critical than ever. We must continue to shine a spotlight on gender equity when inclusion and diversity are most at risk. Support from our Equity Pledge signatories is vital to safeguard against losing ground. Join our 100+ signatories as we use our voices to educate and act on behalf of women, everywhere, of all colors, who do not yet have a seat at the table.
Future Leaders Program
Our Future Leaders Program supports the Chicago Network's goal of developing the next generation of women leaders by providing outstanding sophomore and junior female college students at partnering schools an opportunity to explore career paths in the business and nonprofit sectors.

We contribute to closing the "achievement gap" by offering programs for Young Women Leaders that offer insight and guidance from our Members and our broader community.
"
This program is FANTASTIC. I feel so empowered as a woman and made great connections with other students and professionals. Thank you.
Thank you to our 2020 partner schools,


and thank you to our 2020 hosts: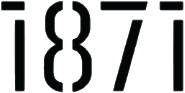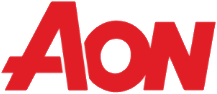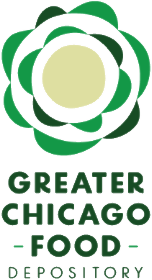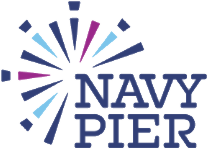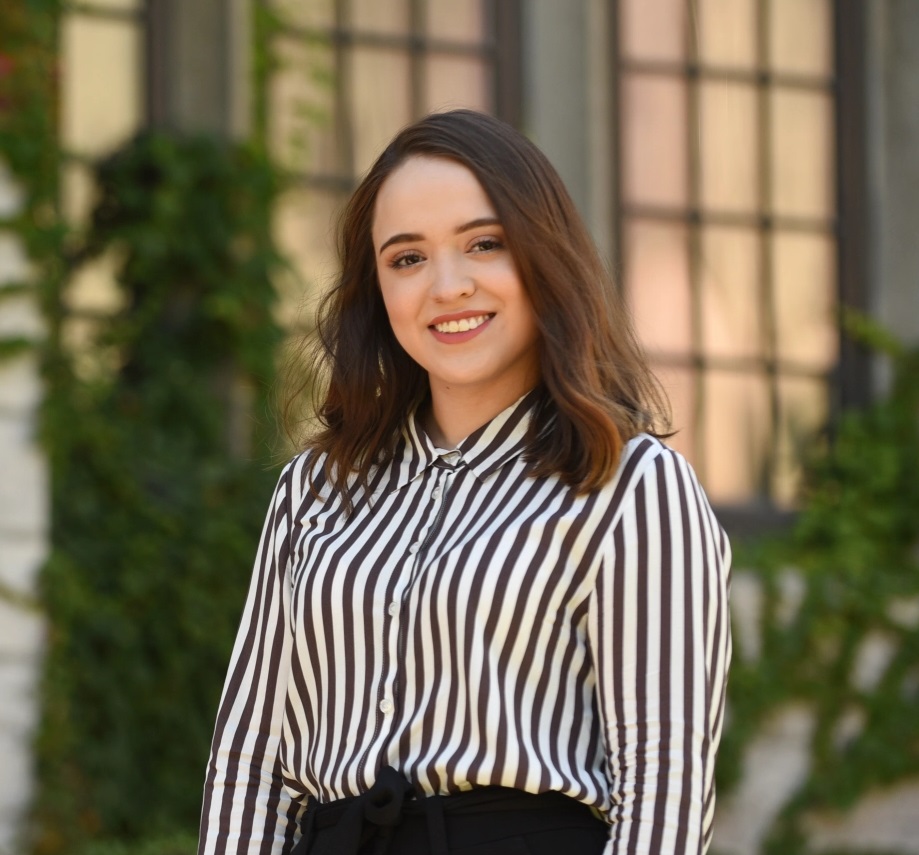 "
I consider my participation in The Future Leaders Program the beginning of my personal professional career. It opened up my vision for me to land an internship at TCN, and to understand the importance of empowered women empowering younger generations.

Ana Vianeth Cabral Gamboa
Communications intern
The Chicago Network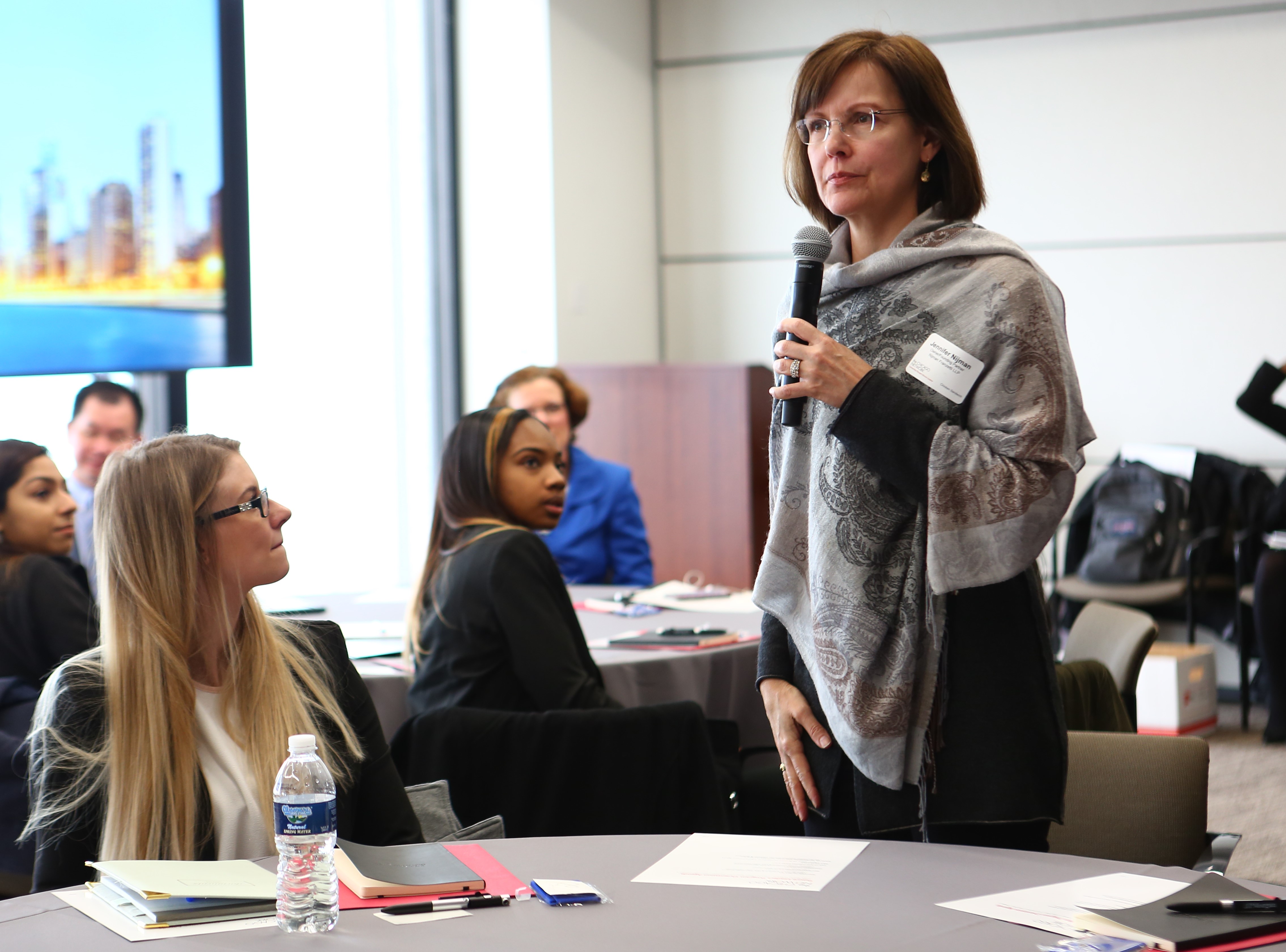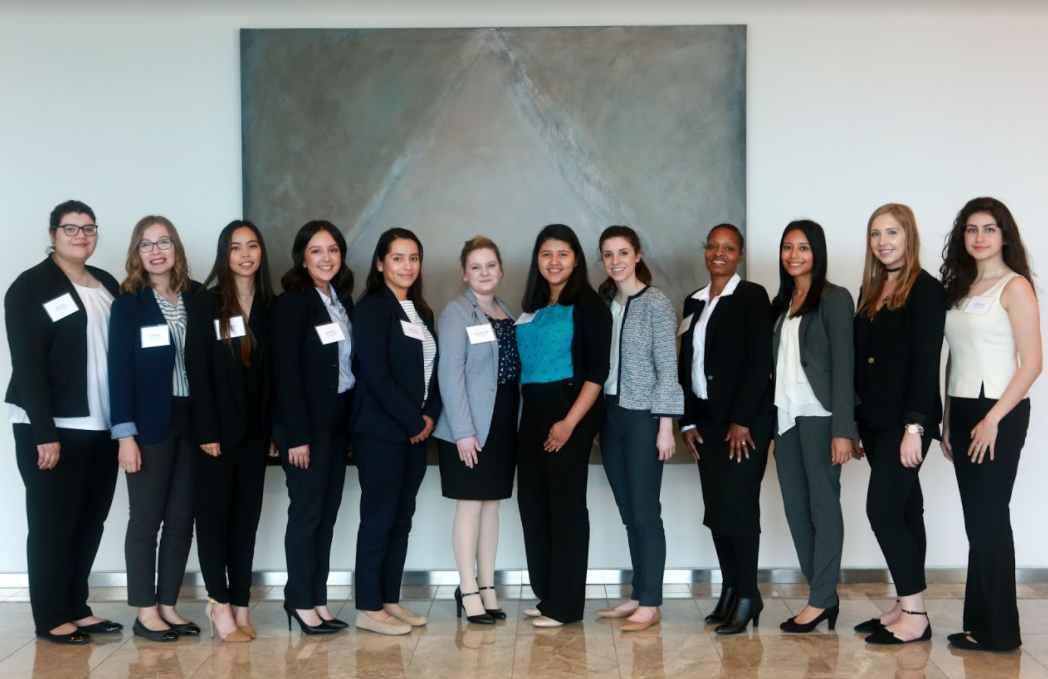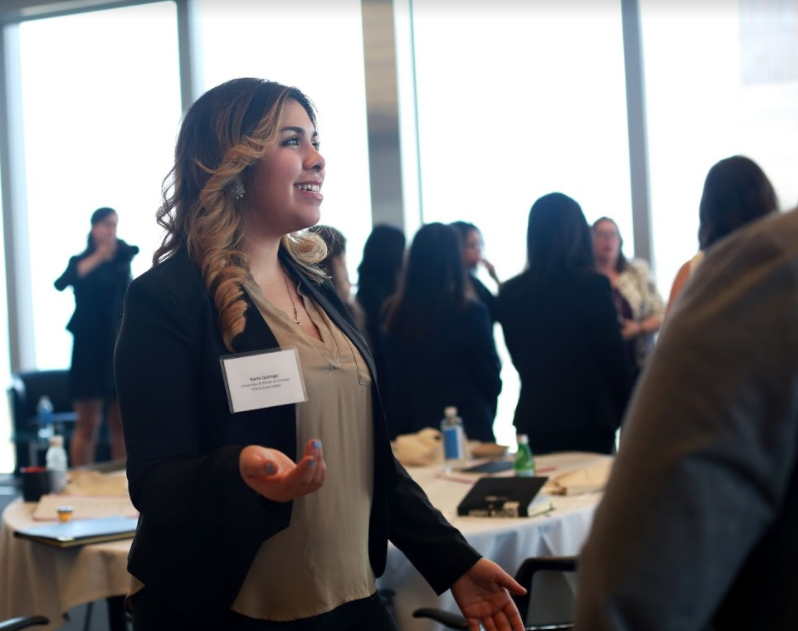 Paying it Forward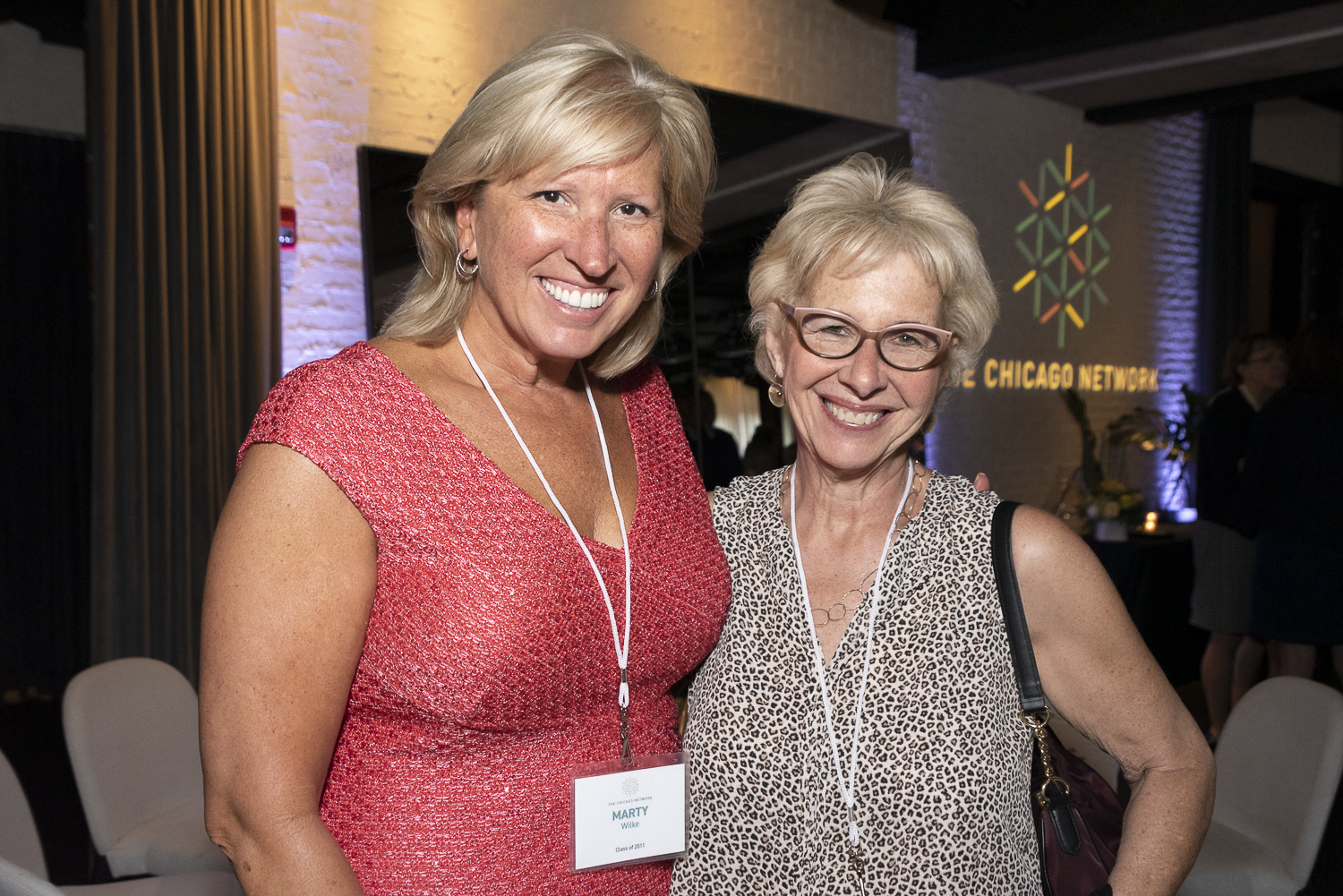 Executive Women's Mentorship Initiative
Our sixth year of continued partnership with the Executives' Club of Chicago on the Executive Women's Mentorship Initiative. We paired 20+ mentees with one-on-one mentors from The Chicago Network.


"
As a several year mentor in the Executive Club's mentor program, I continue to learn as much as I share. In particular, this year, my mentee and I are not only working toward her goals. We are also sharing experiences about the pandemic, racial injustice, and the importance of having the same belief system as your employer.


"
There is no substitute for broader thinking and developing different leadership 'Muscles' than mentoring outside of your organization. It's about mutual learning, an environment of candor, and trust.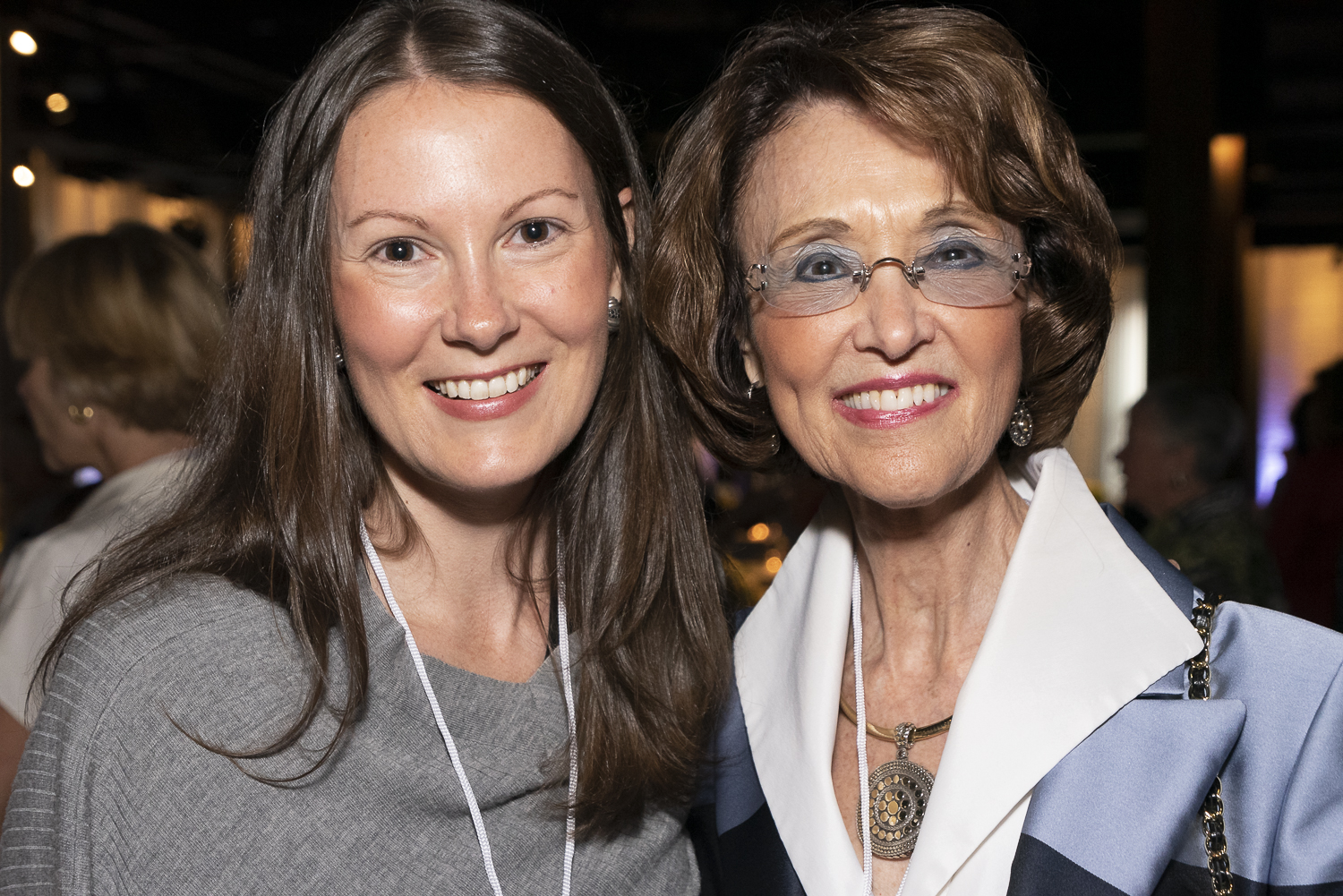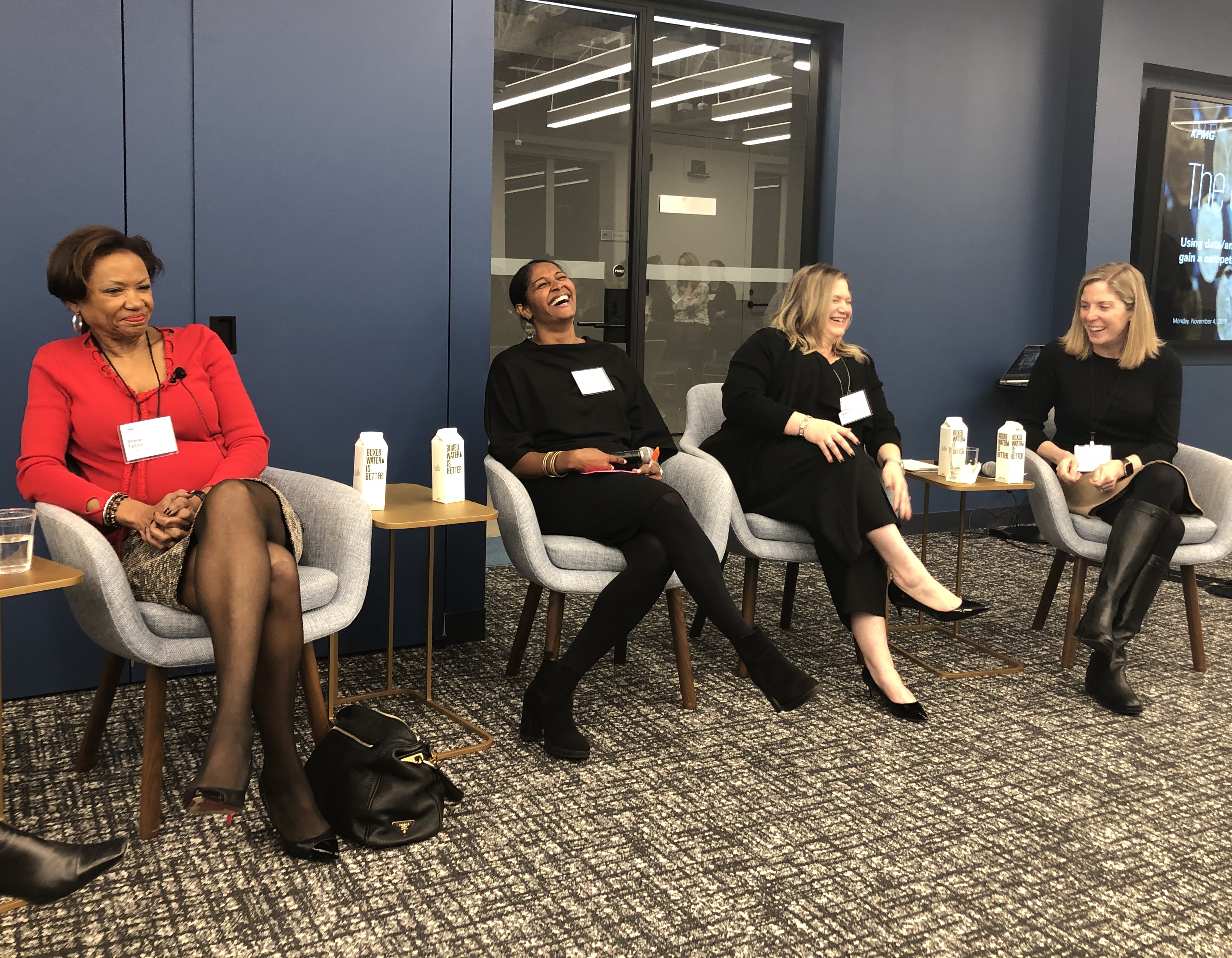 Opening Doors to STEM Careers
Using Data/Analytics, Design Thinking, and Technology to Gain a Competitive Edge in Your Organization
November 4, 2019

This interactive panel discussion featured women leaders who are successfully leveraging 21st Century tools to gain a competitive edge in the marketplace and improve their internal functions. Panelists discussed what types of disruption their industries and companies are facing, and how they are using these tools to innovate and transform their organizations. This dynamic session took place at KPMG's newest, largest, and most technologically advanced Ignition Center.
Speakers
Linda Imonti, Office Managing Principal Chicago, KPMG
Deb Boyda, CEO of Isobar U.S.
Sara Breyfogle, Chief Credit Officer - Discover Card, SVP Analytics & Credit Strategy at Discover Financial Services
Brindha Dyer, Director of Digital Strategy, UL
Shannon Gilmore, Managing Director, Strategic Growth Initiatives KPMG
Sheila Talton, President and CEO, Gray Matter Analytics
Programming
#WhatItTakes: Connecting in Crisis
During COVID-19, The Chicago Network continued to provide high-quality programming with 20 virtual programs:
How Social Media Can Help Your Organization & Audience in Uncertain Times
Speakers:
Rebecca Steurer
Brittany Hinrichs
#Whatittakes to Elevate Your Organizational Brand with Social Media
Speakers:
Rebecca Steurer
Brittany Hinrichs
Virtual Fireside Chat: Meet TCN CEO Maria Doughty in Conversation
Speakers:
Virtual Fireside Chat: Meet TCN CEO Maria Doughty in Conversation
Speakers:
Gloria Castillo
Maria Doughty
Virtual Fireside Chat: Meet TCN CEO Maria Doughty in Conversation
Speakers:
Diane Offereins
Maria Doughty
Virtual TCN Presents: Social Media Implementation & How to Create Engaging Content
Speakers:
Rebecca Steurer
Brittany Hinrichs
Members with Teens Discussion
Speaker:
Keeping Your Employees Engaged & Remote Tools for Employers
Speakers:
Susan Gallagher
Bevin Desmond
Tierney Remick
Part I: #WhatItTakes: Managing a Small Business, Corporate Division, or Nonprofit Through a Financial Crisis and Beyond
Speakers:
Therese Fauerbach
Carol McCarthy
Part II: #WhatItTakes: Managing a Small Business, Corporate Division, or Nonprofit Through a Financial Crisis and Beyond
Speakers:
Therese Fauerbach
Julie Scott
#WhatItTakes: Dealing with Stress and Finding Positive Mental Health Tools during the Covid -19 Pandemic
Speaker:
Personal Well-Being in the Time of COVID-19
Speaker:
Keeping Employees Motivated and Energized While Continuing to be a Positive and Inspirational Leader
Speakers:
Erin Inman
Beth Kirk Malecki
Reboot, Rewire, or Retire? Virtual Roundtable
Speakers:
Anna Rappaport
Libbet Richter
#WhatItTakes in Education
Speakers:
Z Scott
Phyllis Lockett
Susan Poser
Mindfulness: How to Support Your Organization's Wellbeing
Speakers:
Share, Learn, and Connect with Your TCN Sector
Alzheimer's - Cutting Edge Research and Advancements
Speaker:
Racial Equity Session and Leading on the Path Forward
Speakers:
Sylvia Puente
Tina Tchen
Angela Williams
Annual Meeting
Speakers:
Margo Georgiadis
Cathy Ball
Early Brain Development Session
Speakers:
Vicki Escarra
Diana Rauner
ANNUAL EVENTS
Fall Dinner
September 4, 2019
Taking Over the Family Business: Blood, Sweat, Tears – And Success

At the annual kick off to our programming season, we enjoyed a rich discussion among women leaders who have taken over their family businesses and built them into powerhouse enterprises. Each of these women had to make the decision to step into the top role and now they have all strategically grown their businesses.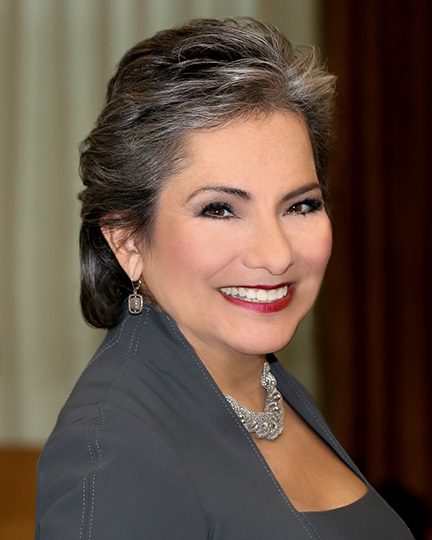 Moderator:
Gloria Castillo
Former President
Chicago United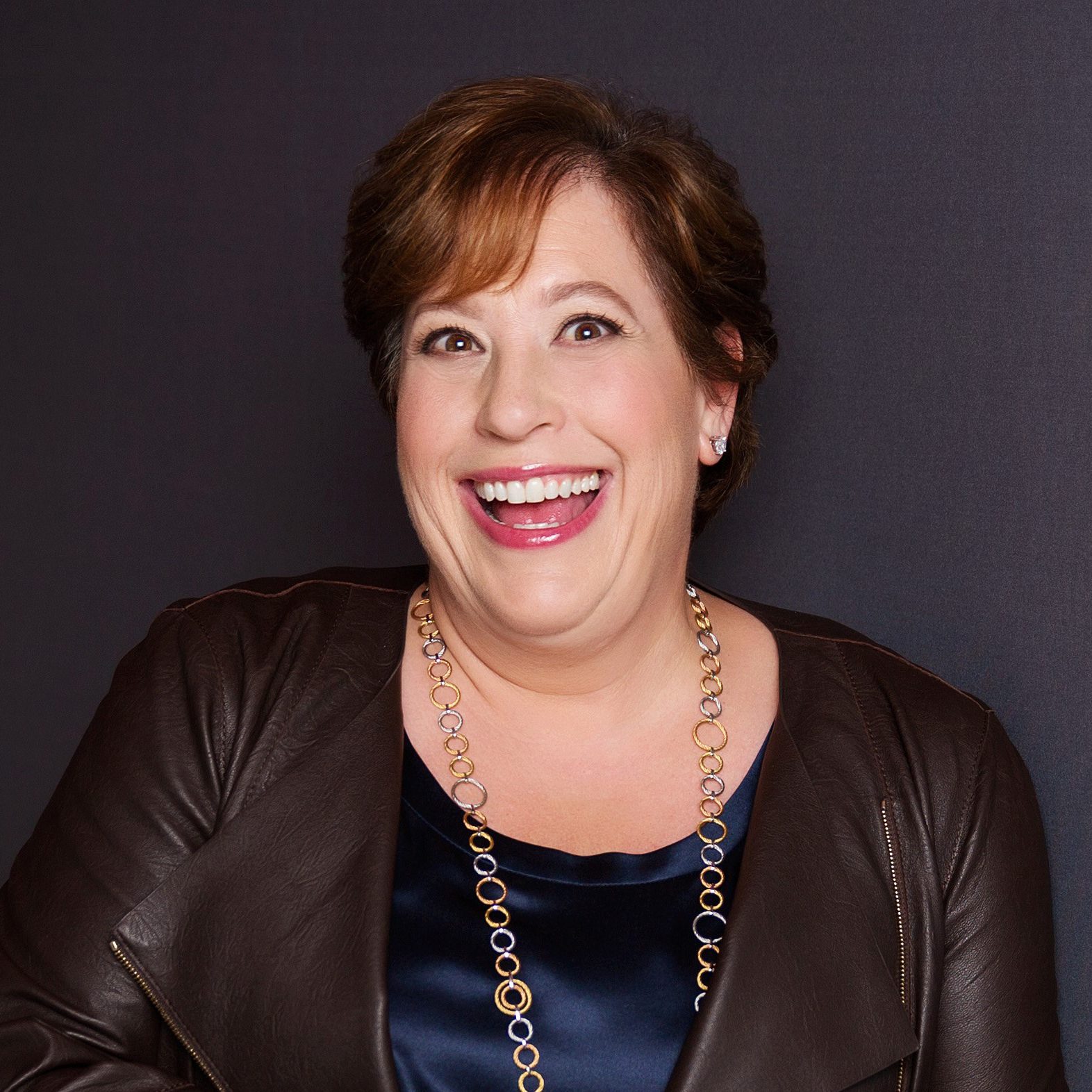 Alison Gutterman
CEO
Jelmar, LLC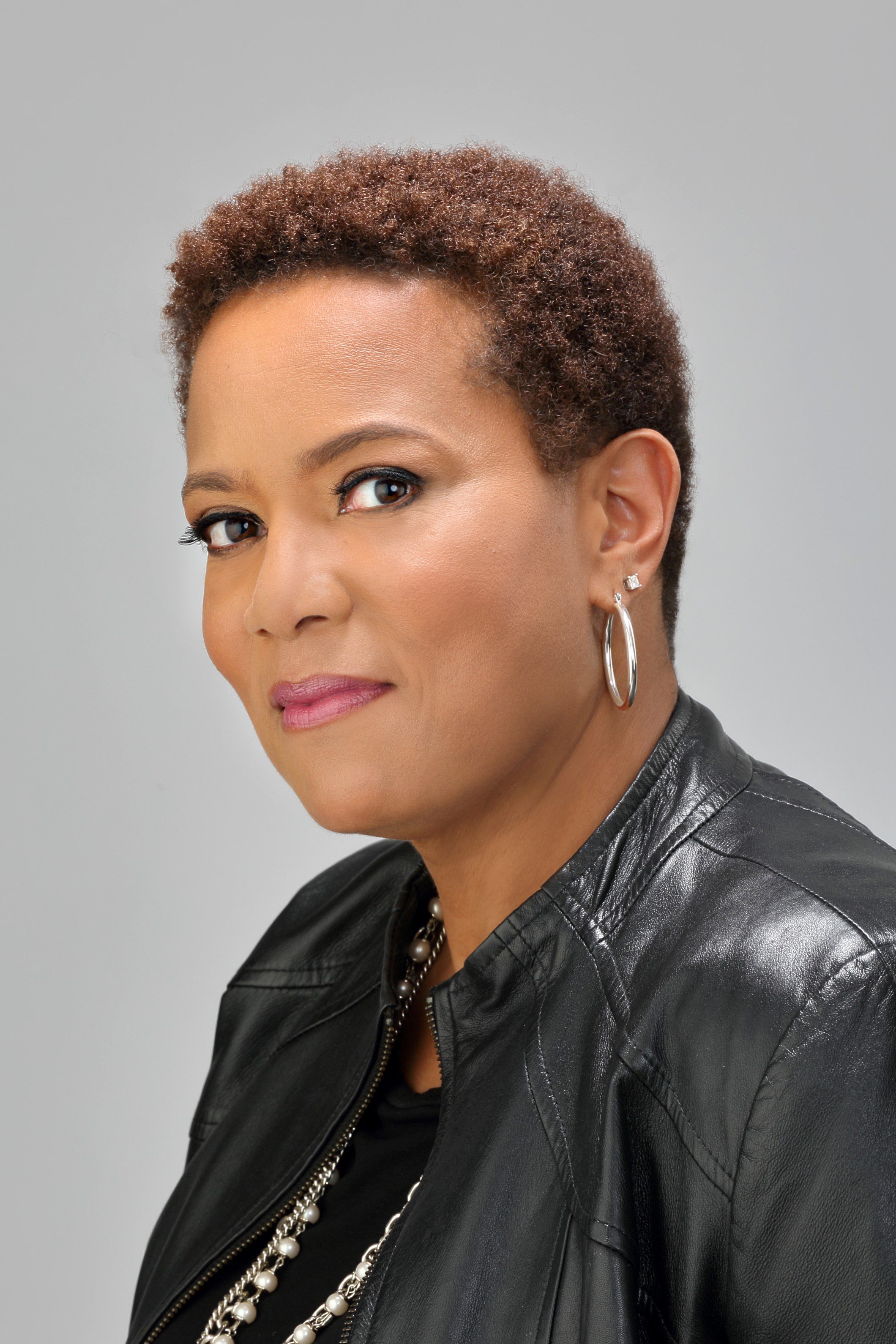 Stephanie Hickman
President & CEO
Trice Construction Company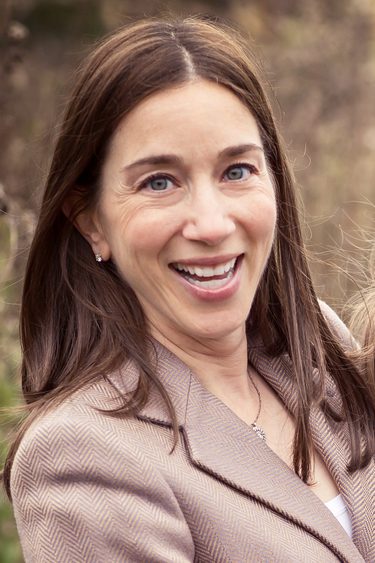 Laura Neiman
CEO
Neiman Bros.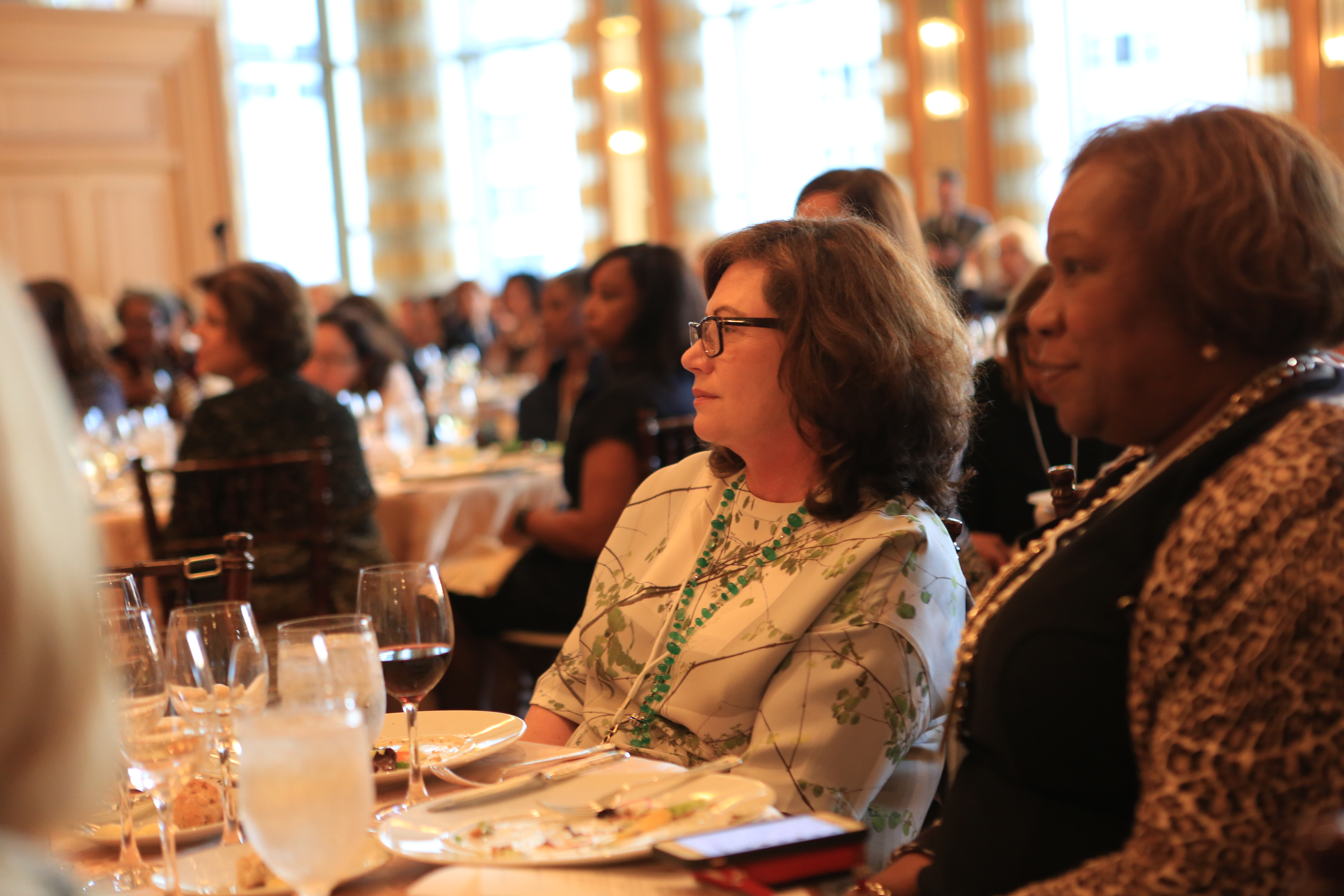 New Year Reception
January 12, 2020

To welcome the New Year, reconnect with fellow members, and make new connections following the busy holiday season, the Network hosted a member cocktail reception at the Radisson Blu Aqua. The evening also brought in several professional clothing donations from members, which were distributed to our Future Leaders partner schools so that their women students have access to professional clothes for interviews and other such opportunities.
Annual Meeting
June 22, 2020

Featuring a Special Program with Margo Georgiadis, President and CEO, Ancestry and Cathy Ball, Chief Scientific Officer, Ancestry

At our Annual Meeting we elected the new slate of Board of Directors followed by a very special program by Ancestry. As the leader of a 30-year-old company that has innovated through multiple technological evolutions, Ancestry President and CEO Margo Georgiadis shared how she's transforming the company to serve its customers in entirely new ways. Margo was joined in conversation by Ancestry Chief Scientific Officer Cathy Ball, who is leading the company's efforts to rethink how it leverages its unique scientific assets and Ancestry's powerful community to make new discoveries to help in the fight against COVID-19.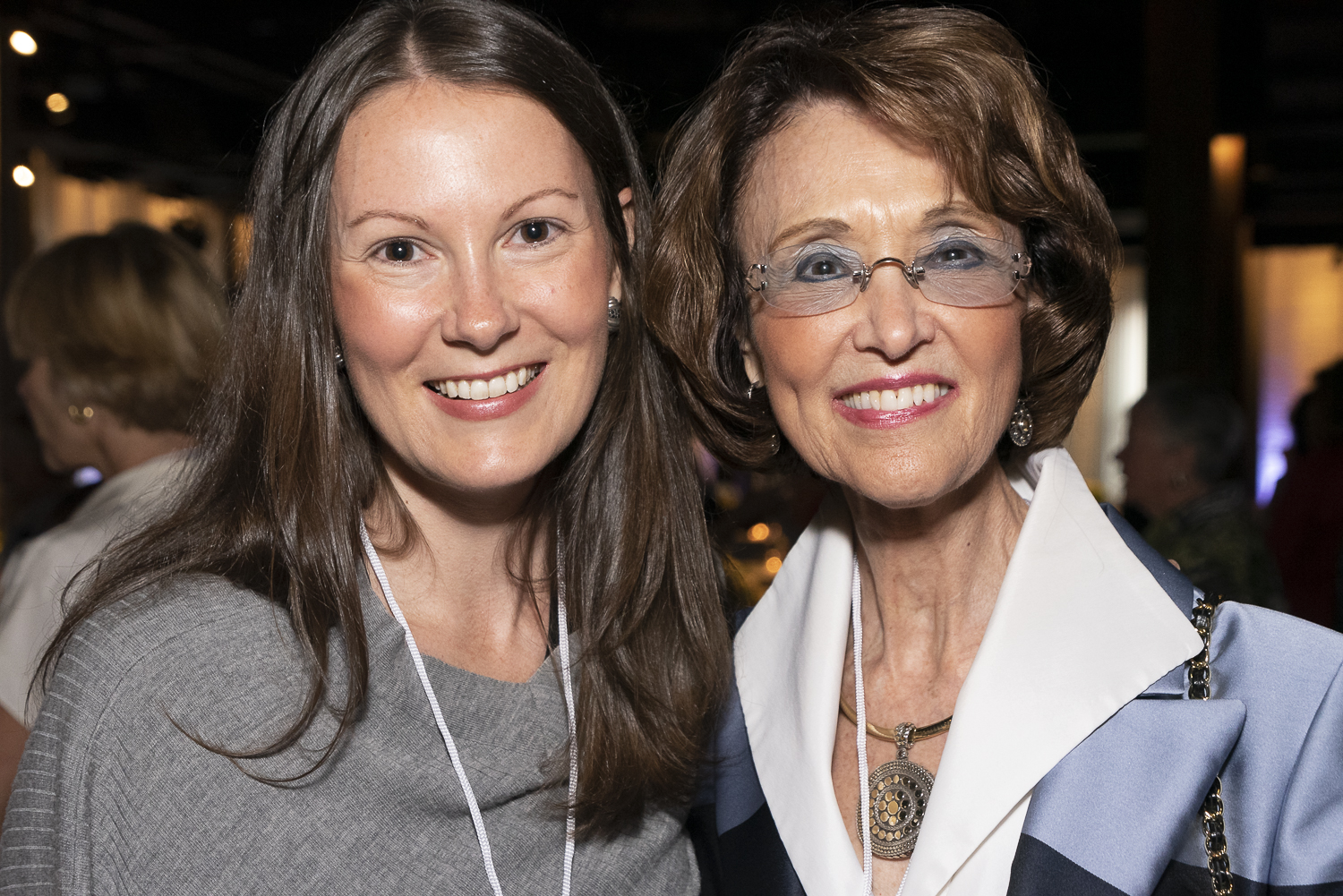 Margo Georgiadis
President and CEO
Ancestry
Cathy Ball
Chief Scientific Officer
Ancestry
Women in the Forefront
Each year, some of the country's most influential figures share their professional and personal experiences with our audience of business and civic leaders as well as young leaders ascending the ranks. As we virtually reimagine the Women in the Forefront event, let's take a look back at our highlights from prior years.
Innovation
Membership App
In April 2020, we launched The Chicago Network app, which members can download in the App Store or on Google Play. The app allows members to look up other members and directly call or email them, register for events, and update their own profile.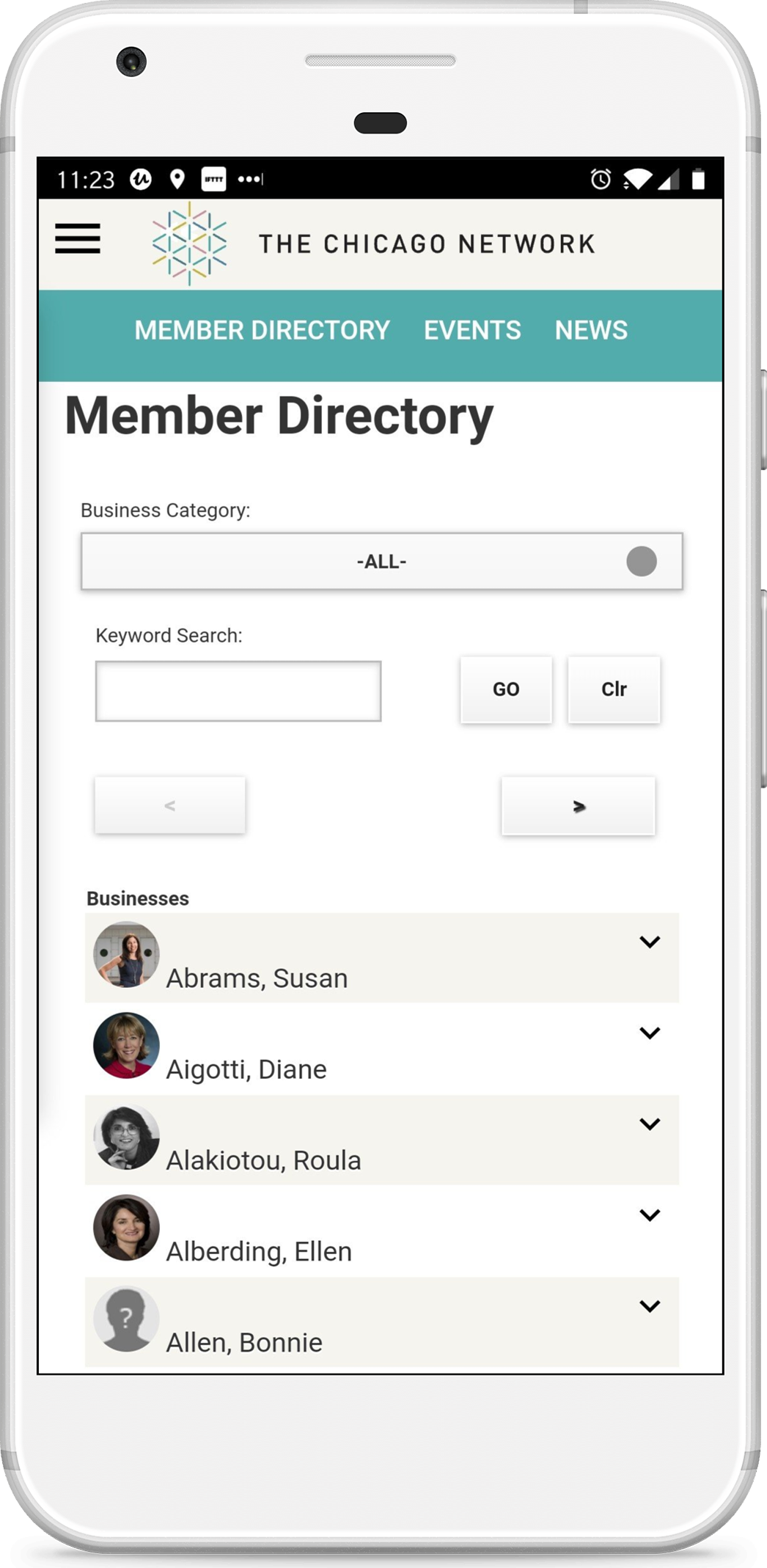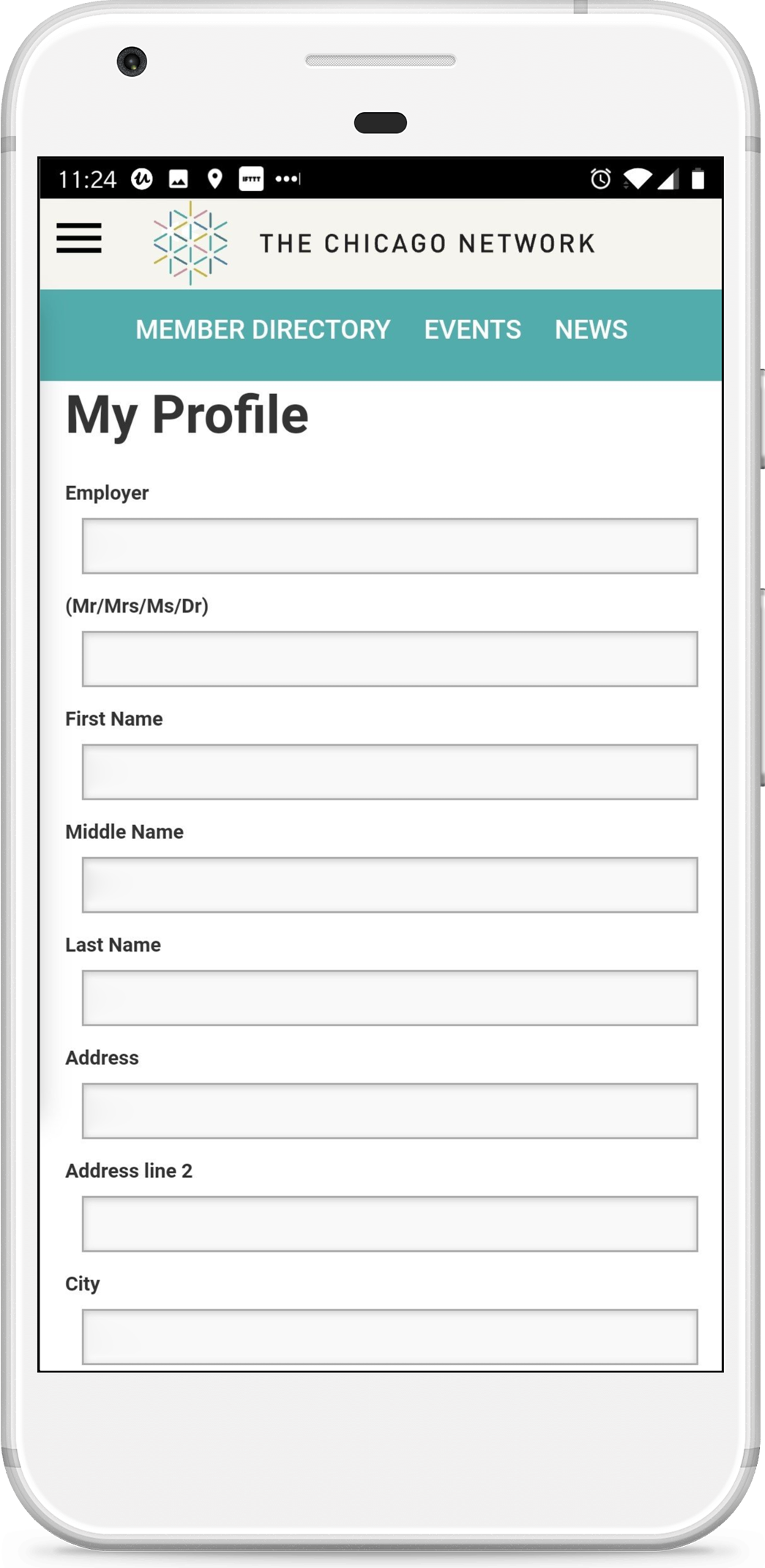 Member Resource Library
TCN launched a password-protected Member Resource Library where members can access proprietary content from past programs and fellow members. This includes recordings of past virtual events, links to presentation decks, additional resources from fellow member companies, and calls to action in which members can engage.


Leadership
Board of Directors
CHAIR
Diane Offereins

VICE-CHAIR; CHAIR ELECT
Cary Grace

TREASURER
Denise Cade

COMMUNICATIONS CHAIR
Kary McIlwain

PROGRAM CHAIR
Jenny Niemann


ENGAGEMENT CHAIR
Cathy Kenworthy

FUTURE LEADERS CHAIR
Maria Pesqueira

GOVERNANCE CHAIR
Linda Myers

MEMBERSHIP CHAIR
Tierney Remick

PAST CHAIR
NOMINATING COMMITTEE CHAIR
Susan Gallagher


WOMEN ON BOARDS CHAIR
Ann Ziegler

WOMEN IN THE FOREFRONT CO-CHAIRS
Joyce St. Clair
Yasmine Winkler

AT LARGE
Teri Arvesu
Deb Boyda
Sidney Dillard
Grace Hou
Michelle Larson
Roxanne Martino
Suzet McKinney
Angela Williams


Committees
EXECUTIVE

Diane Offereins, Chair
Denise Cade
Susan Gallagher
Cary Grace
Roxanne Martino
Kary McIlwain
Maria Pesqueira

ENGAGEMENT

Cathy Kenworthy, Chair
Teri Arvesu
Laurel Bellows
Tracey Benford
Sue Bettman
Patricia Bobb
Deborah Bowen
Karen Case
Linda Coberly
Caralynn Nowinski Collens
Marsha Cruzan
Vicki Escarra
Pamela Forbes Lieberman
Jean Franczyk
Janet Froetscher
Sara Greenstein
Sarah Guernsey
Trish Halper
Gail Hasbrouck
Sandra Helton
Erin Inman
Lisa Johnson
Angela Korompilas
Sherren Leigh
Trish Lukasik
Elaine Maimon
Terri McNally
Dorri McWhorter
Theresa Mintle
Cathy Odelbo
Diane Primo
Carol Ross Barney
Alison Scholly
Julie Vander Weele
Brooke Wiseman

FINANCE AND AUDIT

Denise Cade, Chair
Roxanne Martino
Ann Ziegler


GOVERNANCE

Linda Myers, Chair
Michelle Larson
Angela Williams

MEMBERSHIP

Tierney Remick, Chair
Teri Arvesu
Gina Berndt
Donna Carroll
Sidney Dillard
Anne Edwards-Cotter
Kate Lipuma
Terri Mascherin
Suzet McKinney
Jane Mentzinger
Z. Scott
Yasmine Winkler

PROGRAM

Jenny Niemann, Chair
Dianne Blanco
Patricia Bobb
Christine Castellano
Regine Corrado
Monica Davey
Mitra Dutta
Karyn Esken
Sandra Helton
Mary Jo Herseth
Eileen Kamerick
Margaret McCurry
Nivine Megahed
Carla Michelotti
Libbet Ritcher
Mary Lee Schneider
Toni Smith
Pallavi Verma
Kathleen Yosko


WOMEN IN THE FOREFRONT

Joyce St. Clair, Co-Chair
Yasmine Winkler, Co-Chair
Sue Bettman
Regine Corrado
Lisa Emerick
Julie Scott
Kathy Seegebrecht
Jill Smart
Maryann Waryjas

WOMEN ON BOARDS

Ann Ziegler, Chair
Kapila Anand
Sheila O'Grady

FUTURE LEADERS

Maria Pesqueira, Chair
Rosanna Ander
Shan Bhati
Gillian Darlow
Karyn Esken
Brenda Feis
Gail Hasbrouck
Grace Hou
Susan Jacobs
Robin Kelly
Deb Lahey
Marilyn Lissner
Kate Maehr
Renetta McCann
Sandra Cordova Micek
Jennifer Nijman
Jennifer Rosato Perea
Susan Stelter
Cheryl Whitaker
Maxine Winer
Yasmine Winkler


COMMUNICATIONS

Kary McIlwain, Chair
Maryam Banikarim
Emily Barr
Deb Boyda
Laura Desmond
Jennifer Graves
Julie Loeger
Kathy Seegebrecht

NOMINATING

Susan Gallagher, Chair
Cynthia Barginere
Cary Grace
Beth Kirk Malecki
Diane Offereins
Kathy Seegebrecht
Z. Scott
Yasmine Winkler

EMERITA

Libbet Richter, Chair
Ellen Carnahan
Sandra Helton
Eva Maddox
Barbara Provus
Anna Rappaport
Toni Smith


Staff